Karissa Vacker Interview
Hello, book lovers! Welcome to my fifth Audiobook Narrator interview with Karissa Vacker.
Here's the story. On the last Tuesday of the month (tomorrow, the 25th), I'm participating in Top Ten Tuesday's favorite narrators. With that in mind, I decided to do a little hunting and try something new: Narrator Interviews. So, buckle up, buttercup! This is going to be a ride.
Throughout April, interviews will also be posted with Imogen Church, Karissa Vacker, Hillary Huber, Amy Landon, and Angela Dawe (not in any specific order). Then for Top Ten Tuesday, they will be a part of the round-up post, as well as a few others.
Karissa Vacker, What Are You?
Yes. Let's all do it together, every post! Shall we?
I gave a list of general titles- narrator, actor, voice-over, etc… to find out exactly what narrators are (they aren't cartographers or Sun Summoners, sorry, Darkling).
I'm an Audiobook Narrator and Voiceover Artist. In addition to narration, I do other voice-over work, including hosting a sleep meditation podcast called Sleep Wave.  I was a theatre and on-camera actress for many years, but once I began diving into voice work, I absolutely fell in love with it and found it so creatively satisfying that it's pretty much my sole focus these days.
What Do You Do
I get the manuscript ahead of time from the publisher, and then I read the whole thing before I get into the booth. I make decisions based on the text and am looking for certain things: What is the tone? Is it narrated in first person or third person? Who the characters are and what differentiates them is probably the biggest thing I'm looking for because I try to give each character different vocal qualities. Sometimes that's quite easy when an author has described them really well, and I can see a clear picture of who each person is.
Occasionally though, their descriptions are much vaguer, and therefore I have to do a little more of that legwork on my own and cast them in my mind.  I often cast them from people in my own life or people on TV or in movies that they might remind me of.  If I have a visual for each character, I can change their vocal quality more easily.
Where Do You Record/Pandemic
I record in my home studio in Dallas, Texas, but that's not where I started out.  However, I lived in LA for 14 years, which is where I began my voiceover career.  I recorded at either producer or publisher studios until the pandemic happened and everything shut down.  At that time, I sprang into action and had my home booth up and running within three weeks!  It was very stressful at the time but allowed me to keep working through that weird stretch of time and has also enabled me to move away from LA in the summer of 2021.  I have a toddler, and being able to work from home and live closer to family, is such a boon to my quality of life, so I am very grateful for that!
Bloopers
I mean, I have bloopers literally every day!  I don't know if I could list the funniest ones because they are so common that I just take a moment to laugh at myself and move on.  That is another lovely thing about when I'm Zooming with a director – I have someone else to appreciate the hilarious and weird things that happen sometimes in the booth when usually I'm just stuck laughing by myself. 🙂
Thank you to Karissa Vacker and MacMillan Audio for supporting this series.
Preparation and Routines
Whenever possible, I try to meditate and do a little yoga to warm up before I get in the booth.  It's amazing how much better I feel and how much more breath capacity I have when I take the time to get my body and mind in a good space.  Then I'll often look over the pages I'm set to record that day and refresh myself on which new characters I'll be recording.
That is especially important if it is a book with various accents or dialects, but it's always helpful.  It is my goal to spend no more than 4 hours in the booth a day.  Between narrating books, the podcast I record and help write, and other admin tasks, I've found 3-4 hours is my sweet spot for time spent recording. When I can manage my schedule such that I'm not doing more than that in a day, I find I am more efficient and feel more balanced and therefore put out better work.
I dare anyone to listen to Karissa Vacker from the first sentence of this clip and not feel the chills roll up your spine one vertebra at a time.- me
Favorite Book, Character And Genre
That's a tough one!  Recent favorites include "How I'll Kill You" by Ren DeStefano, which is a thriller and also an unlikely love story.  Sarah Grunder Ruiz's books "Love, Lists and Fancy Ships" and "Luck and Last Resorts" totally stole my heart.  They are rom-coms, I guess, but are also so much more.  Another thriller, "A Flicker in the Dark" by Stacy Willingham, is one that is so brilliantly written that over a year later, I still can't get it out of my head.
As you can probably tell from my fave book list, I love thrillers and rom-coms!  Basically, I love well-written, smart characters that I can just lose myself in and go on the ride.  That's when my job is really a dream.
Favorite Colleagues And What Would You Ask Them
When I first began listening to audiobooks, before this was ever my career, Julia Whelan was recommended to me, so I listened to a ton of her narration.  She does such a beautiful job on so many fronts; her accents and her characterizations are really on point. You trust her to take you on the journey, and that is something I've drawn a lot of inspiration from.
There are so many of my colleagues I respect and look up to, though!  Sophie Amoss, Jesse Vilinsky, Cassandra Campbell, Bahni Turpin, Hillary Huber…I could sit here and list powerhouse women all day. I love male narrators as well, of course, but don't listen to them quite as often when I get to listen to an audiobook for whatever reason. I just think audiobook people are very cool people. They are book nerds but also tend to be really great, multi-faceted people and artists.  I count myself lucky to be among them!
---
About Karissa Vacker
From her website (linked below)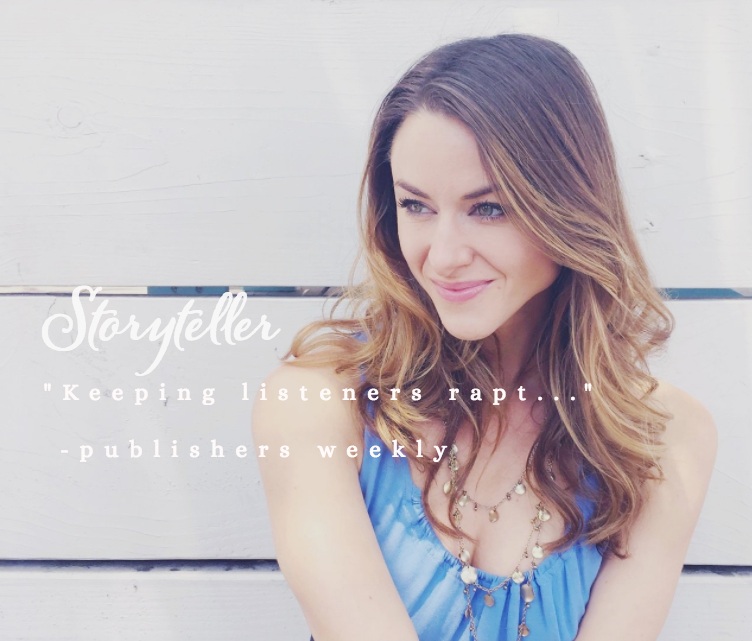 Karissa is an Audie Award Finalist and AudioFile Earphones award-winning narrator.  She is a classically trained actor with credits from major regional theaters and also has numerous film and TV credits.
Karissa has narrated over 300 books for Penguin Random House, Macmillan Audio, Hachette, Brilliance, Tantor,  Dreamscape, Harper Collins, and Scholastic, among others. She excels at narrating suspense/thrillers, literary fiction, and romantic comedies.
Need an accent? Karissa brings Southern American, British, French, and Irish characters to life and has proficiency with a number of other dialects.
Home Studio specs: Studiobricks Booth, AT 4047 microphone, UA Arrow interface, Pro Tools.
GMA recently did a segment on the overall popularity of audiobooks, and Karissa Vacker had the honor of participating.
Contact Karissa Vacker