Camilla Bruce- In The Beginning
Yes. This interview surrounds the release of Camilla Bruce's latest release, In The Garden of Spite. I promise. I couldn't start there, though. Every year there are always a handful of books that, while you are positive you will like them? They manage to steamroll you, anyway. Camilla Bruce's debut You Let Me In, was one of those books (yes it was Fae… but STILL). A year later, Camilla Bruce's line regarding Fae magic, from You Let Me In, remains one of my favorites.
"Faerie magic is fickle magic: there are no guarantees."
And truthfully, while my obsession with the Fae was already rooting itself in my dark soul, I believe it was You Let Me In that probably sealed the deal with me and screaming – you don't fuck with the fae. And so, I must start this interview gushing over Camilla Bruce's debut You Let Me In. Anyone who knows anything about my reading at all, definitely saw this coming.
---
You Let Me In By Camilla Bruce … And The Fae
What is your take on the Fae, the world you built around the Fae in You Let Me In, and Pepper-Man. What guided your creation of it all? 
I didn't do any research for You let Me In, so the faeries there are really a result of accumulated knowledge and inspiration. I think it's fair to say that they emerged in a pretty organic way from the nooks and crannies of my brain. There were very few rules guiding this particular piece of writing.
Have you always been a fan of Fae lore, the world, and duplicity?
The simple answer is yes, I have always been drawn to faerie stories, especially the older ones where the faeries are often malevolent and connected to the afterlife. I think it's their liminal quality that intrigues me and the way in which they often reflect the human world in a distorted, surprising, and uncanny sort of way.
The set-up of You Let Me In is fantastic because from the get-go readers know it is up to them to choose what and who to believe. To me, that wasn't just within Cassie's story, but Pepper-Man. You can believe he truly wants to protect Cassie, that he serves himself or that it is a mix of the two. In both instances (Cassie's story and Pepper-Man), how did you walk the line of what to, and not give readers? Was it difficult to decide- with a lot of second-guessing or were you sure from the start?
I actually had a lot of fun with that; building up a narrative on one page, just to tear it down again on the next. It didn't feel difficult at all, and there was very little second-guessing. You Let Me In was one of those blessed instances where the words just seemed to flow, and I wrote the first draft in six weeks.
uh… Did she say six weeks? Maybe Camilla Bruce IS Fae…
---
In The Garden of Spite and You Let Me In Writing Structure
Connecting the above to In The Garden of Spite – it is also up to the reader to draw conclusions at many points/major events throughout Belle's life. Your vision for creating these nuanced characters and stories that push and pull with readers, actively engage them in a challenge to decide high-stakes opinions of character traits, actions and events. It is a whole different lens to read, and write through. Is that something you always set out to do as a writer or something you have found yourself falling into and now come to love it?
I think that's something that comes natural to me, and not something I actively decide to do. As a reader, I'm also a big fan of complex, 'difficult' characters who make questionable (or even horrific) choices, so I suppose that's just what I'm drawn to.
Like books with open endings, it can be a bit of a risk because that structure can be divisive to readers. Either they like it or don't. Has that ever concerned you?
I've never set out to write something that is for everyone, but have tried to be loyal to the writing advice about "writing the book you want to read". In my case, that means my work won't be everyone's cup of tea, and I'm perfectly fine with that. On the other hand, when my work connects with readers, it often really connects, so that's the upside.
I'm one of those readers. And it won't ever end well for me… I will be in the fetal position on the floor… and yet I never learn. And there I go. And here I am. On the floor. EVERY. SINGLE. TIME. I'll take that drink, Micheal.
---
In The Garden Of Spite- Belle Gunness
In writing Belle Gunness, you are the first author to land me directly between empathy and disgust for a character since M.R. Carey's The Girl With All the Gifts. For me, that is lofty company. Did you set out with that intent? As a writer, and more importantly, as a woman, did you feel a sense of "I don't blame her," at times and then a sense of lady look what you are doing now…. not cool, not cool 😆😱☠
One of the things that drew me to Belle in the first place was a sense of recognition and that was very surprising to me, as I obviously don't feel that way about the stereotypical male serial killer who prowls dark city streets. Her gender was one thing; but also her circumstances (motherhood for one), and obviously also her origins, as she came from the same part of Norway as me. I think one of my aims with the novel was to explore that recognition: where did it start and where did it end – how much of her violence was I able to justify? (Not very much, as it turns out).
In a world where violence against women is still a big problem, I don't think it's entirely unhealthy, though, to be reminded that women, too, can be dangerous, to men.
---
In The Garden Of Spite- Historical Accuracy, Present Day Debate
I really appreciated the lengthy author's note at the end. When you first started down the path to writing In the Garden of Spite, did your feelings toward keeping true to her story change? Or did your plan stay pretty set?
That was honestly a twisty road. I started out wanting to do more of a straight retelling, but then reality rarely makes for a great literary narrative, it's far too tangled and inconsistent for that, and with this story, there were also a lot of uncertainties. I ended up wanting to write the best story that I possibly could rather than an entirely truthful one, but still close enough to what actually happened for it to be clearly recognizable.
Going off the above, in reality, there is a lot of ongoing debate about Belle. Are you surprised there isn't more written, documented, and discussed her? She is fascinating no matter where your feelings lay!
I'm surprised that we don't talk more about female serial killers overall, considering how much attention the male ones get. They are very rare, so one would think that brought on some novelty, but that just doesn't seem to happen (causing everyone that emerges to be declared the first', which is always wrong). Perhaps our need to see women as life-giving, safe, and nurturing is just so deep-set that we struggle to abandon that narrative.
---
Camilla Bruce- What Is Next
In the Garden of Spite and You Let Me In are two completely different genres. What did you enjoy more and where do you think your writing will take you next? If you are already working on something new, I'd love to hear about it!
I'm currently working on a new speculative thriller and a new dark historical. I have two different contracts with two different publishers and am splitting my efforts between the two genres. None of my current projects have been announced yet, though.
As I stated above- I know it won't end well for me and I don't care. Whatever is next, I am here for it. Give it to me now!
---
About Camilla Bruce
Camilla Bruce is a Norwegian writer of dark speculative and historical fiction. Her debut novel, You Let Me In, is out now from Bantam Press (UK) and Tor (US). Her dark historical, In the Garden of Spite, is out from Berkley in the US, and will be published in the UK by Michael Joseph in August 2021.
Contact Camilla Bruce:
Twitter: @millacream / Instagram: camillabruce_writing/E-mail: [email protected]
---
You Let Me In By Camilla Bruce
Tor Books
Tor/Forge
On Sale: 04/21/2020
ISBN: 9781250302045
256 Pages
You Let Me In delivers a stunning tale from debut author Camilla Bruce, combining the sinister domestic atmosphere of Gillian Flynn's Sharp Objects with the otherwordly thrills of Neil Gaiman's The Ocean at the End of the Lane.
Cassandra Tipp is dead…or is she?
After all, the notorious recluse and eccentric bestselling novelist has always been prone to flights of fancy–everyone in town remembers the shocking events leading up to Cassie's infamous trial (she may have been acquitted, but the insanity defense only stretches so far).
Cassandra Tipp has left behind no body–just her massive fortune, and one final manuscript.
Then again, there are enough bodies in her past–her husband Tommy Tipp, whose mysterious disembowelment has never been solved, and a few years later, the shocking murder-suicide of her father and brother.
Cassandra Tipp will tell you a story–but it will come with a terrible price. What really happened, out there in the woods–and who has Cassie been protecting all along? Read on, if you dare…
---
In The Garden of Spite By Camilla Bruce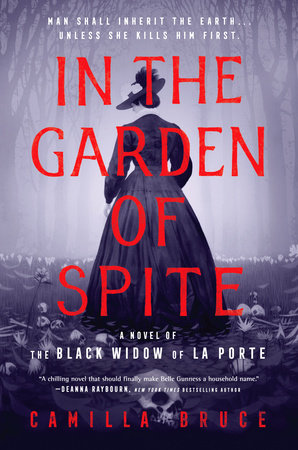 Berkley
On Sale: Jan 19, 2021
480 Pages
ISBN 9780593102565
An audacious novel of feminine rage about one of the most prolific female serial killers in American history–and the men who drove her to it.
They whisper about her in Chicago. Men come to her with their hopes, their dreams–their fortunes. But no one sees them leave. No one sees them at all after they come to call on the Widow of La Porte.
The good people of Indiana may have their suspicions, but if those fools knew what she'd given up, what was taken from her, how she'd suffered, surely they'd understand. Belle Gunness learned a long time ago that a woman has to make her own way in this world. That's all it is. A bloody means to an end. A glorious enterprise meant to raise her from the bleak, colorless drudgery of her childhood to the life she deserves. After all, vermin always survive.