Village Of The Lost Girls By Agustín Martínez Spotlight
Welcome to the Village of the Lost Girls by Agustín Martínez Goodreads Summary:
Five years after their disappearance, the village of Monteperdido still mourns the loss of Ana and Lucia, two eleven-year-old friends who left school one afternoon and were never seen again. Now, Ana reappears unexpectedly inside a crashed car, wounded but alive. The case reopens and a race against time begins to discover who was behind the girls' kidnapping. Most importantly, where is Lucia, and is she still alive? Inspector Sara Campos and her boss Santiago Bain, from Madrid's head office, are forced to work with the local police. Five years ago fatal mistakes were made in the investigation conducted after the girls first vanished, and this mustn't happen again. But Monteperdido has rules of its own.
Village of the Lost Girls by Agustín Martínez, translated by Frank Wynne
I'm excited to bring you my spotlight blog tour stop for the Village of the Lost Girls by Austin Martinez, which was released on September 15th by Mobius
---
"Addictive, atmospheric and haunting, one of the best books you'll read this year."—Jo Spain, internationally bestselling author of The Confession
"Gripping and atmospheric"—Sunday Times
"Creepy and atmospheric"—Woman & Home
"A heart-thumping thriller"—Irish Mail
---
Village of the Lost Girls Excerpt 
MONTEPERDIDO SHOCKED BY DISAPPEARANCE OF TWO ELEVEN-YEAR-OLD GIRLS
Eleven-year-olds Ana M. G. and Lucia C. S.  left Valle del Esera School at 5 pm last Monday, 19 October 2009, and set off to walk along their usual route to the neighbourhood of Los Corzos, on the outskirts of the village of Monteperdido, in the province of Huesca. Neither of the girls made it home.
"We are keenly aware that the first 48 hours of an investigation are crucial. We have not been able to do as much as we would have liked, but we will not rest until Ana and Lucia are safely home," said a police spokesperson, who denied that there had been any evidence of violence at the site where the girls were last seen, which could lead to fears for their safety.
The parents of the girls have not made a public statement, though a spokesperson for the families has said that they are shocked and deeply concerned. Since their daughters were very familiar with the route home, the parents have rejected suggestions that the girls might have become lost, but have no idea who might have taken them. They firmly hope that their daughters will soon be able to give them answers.
A VILLAGE IN SHOCK
Monteperdido is a well-known tourist spot, famed for its spectacular natural setting, ringed as it is by two national parks in the shadow of the highest peaks of the Pyrenees. Ana and Lucia are well known to local villagers. Both are excellent students and, being next-door neighbours, they are inseparable friends.
Although neighbours are doing everything possible to help with the search, there has been a growing impatience at the lack of any concrete results. No witnesses have come forward; it is as though the two girls vanished into thin air. The Guardia Civil has dispatched a number of officers that specialize in abductions of minors to lead the investigation.
"We know that it is difficult, but we would ask that people be patient and respect the privacy of the families during this difficult time," said one of the recently assigned officers. "This is a distressing case, but one that we hope to resolve quickly. In order to do so, however, we need the support of the people in the Monteperdido area, and of the media."
"Of course we want to believe that the girls are safe and well. We're clinging to that hope; it's what is keeping us going," confessed someone close to the two girls. It is a hope shared by everyone in Monteperdido.
Excerpted from Village of the Lost Girls by Agustin Martinez, Copyright © 2020 by Agustín Martínez. Published by Mobius
---
Agustín Martínez -About The Author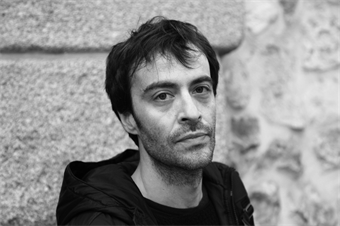 Agustín Martínez was born in 1975 and studied audiovisual communications in Madrid. Today his is one of Spain's most renowned screenwriters who has worked on some of the country's most popular crime series. On a holiday trip with his family to the Pyrenees, he overheard the locals talking about a case of a missing child- the idea for the Village of the Lost Girls was born and has since been translated into many languages. This is his first novel.
---
Village of the Lost Girls Blog Tour Schedule