Top 5 Saturday: Hyped Books
Amanda at Devouring Books created this Saturday Top Five series. Every Saturday, since last October, and holy hell has it grown!!! I don't typically tag anyone, but anyone and everyone is welcome to join. This week is all about Hyped Books.
I've decided to go a bit above and beyond with five hyped books from the first half of the year (since there are a lot of those kinds of lists being done and I haven't) and five hyped books I am looking forward to for the second half of 2020. However, with the hyped books to come, I am going to stay away from books I've already featured in previous lists (sans the Spring/Summer Fling 2020 because that is all-encompassing), etc.
Share your top 5 books of the current topic– these can be books that you want to read, have read and loved, have read and hated, you can do it any way you want.
Tag the original post (This one!)
Tag 5 people
Top 5 Saturday Schedule for July
7/4/20 — Coming of Age
7/11/20 — Hyped Books
7/18/20 — Books you Own
7/25/20 — #OwnVoices Books
---
Top 5 Hyped Books From The First Half Of 2020

Ground rules. My ground rules, of course. I won't follow any other rules. I'm lucky I follow mine. But we already know this. Plus I'm giving you ten books, so I can do whatever I damn well please.

First half of 2020- January-June
HYPED means HYPED FOR ME… not necessarily in general because there are many hyped books I couldn't care less about and many I was crawling over broken glass to read that, it was just a me thing. It can't be a booked that shocked me (a dark horse or a book I thought I would like but didn't etc…). It can't even be a book that I was really looking forward to, or one I knew I would like but loved even more than that… HYPED MEANS HYPED like DEAD MEANS DEAD. Capiche?
Loved or Hated- no meh.
Obviously, five doesn't cover it. So this is by no means, all encompassing. That isn't really a rule but a disclaimer.

What say you, Thor? Cool?

Alrighty, then. Let's do this- in date order. Some of this you should see coming a mile away.
---
1) All The Tropes And Tropes Oh, Right. All The Salt And Salt.
I don't mind tropes. EXECUTION, PEOPLE. The Review is linked.
OH, and let's not forget that, as stated in the Review, how hyped was I for this monstrosity? I PRE-ORDERED THE DAMN BOOK BOX AND HAD TO SELL IT. NEVER EVER AGAIN BEFORE READING AN ARC. 

---
One of my most anticipated/hyped books, sequels, and all around I HAVE TO HAVE IT books this year. And it didn't just live up to all the things; it blew away all the things.
---
Admittedly, Girls With Razor Hearts was a late addition to my AHHHHHHHHHHHHHHHHHHHHHHHHHHHHH books, but there it was, just the same. Anyone who had the misfortune of being around twitter the night I live-tweeted a large chunk of Girls with Sharp Sticks (the part where I was so physically and mentally destroyed I had to stop eating- like mid chewing, spit out and stop). Well, they had the misfortune of witnessing, in real-time, my annihilation at the hands of Suzanne Collins. And so, Girls With Razor Hearts immediately became, I WILL GIVE A HEART AND KIDNEY. And a week before publication, the ARC Gods smiled upon me. Now, Girls With Rebel Souls, just LET'S GO ALREADY.
Damn all of you for not warning me before I spit half my dinner out of my mouth and nose. Serves book twitter right.
---
The Trials Of Koli (Rampart Trilogy #2 Coming September 15)- Not Linked Because- Spoilers! 
Anyone paying the least bit attention knows my love/hate relationship with M.R. Carey. Love… but hate because… Girl With All the Gifts. But love. So this trilogy has been full-blown on my radar since it was announced, a year before the first book was published. Getting to interview M.R. Carey?
---
Absolutely one of my most hyped books of the year, and then we went into it with some trepidation. Thankfully, that was unfounded!
This isn't a book to rush but savor!  We are already speculating and salivating over the next installment!
What could make the Reign of Terror better than Dark Magic?
---
Top 5 Hyped Books Yet To Come
Rules from above apply + what I stated in blue: I am going to stay away from books I've already featured in previous lists (sans the Spring/Summer Fling 2020 because that is all-encompassing), etc.
Oh! And Books run from July – December, and can't be ones I've already read (I'm being hard on myself because that eliminates those such as Burn Our Bodies Down)
---
With the sequel to Fate of the Fallen yet to be announced- I'm hoping for another humorous fantasy to keep me happy
Summary: This is the story of how the City was saved by Notker, the professional liar, written down because eventually the truth always seeps through.
The City may be under siege, but everyone still has to make a living. Take Notker, the acclaimed playwright, actor, and impresario. Nobody works harder, even when he's not working. Thankfully, the good citizens of Classis appreciate an evening at the theatre even when there are large rocks falling out of the sky.
But Notker is a man of many talents, and all the world is, apparently, a stage. It seems that the Empire needs him – or someone who looks a lot like him – for a role that will call for the performance of a lifetime. At least it will guarantee fame, fortune, and immortality if it doesn't kill him first.
This is the story of Notker, an occasionally good man and a terrible liar. With razor-sharp wit, K.J. Parker has created one of fantasy's greatest heroes, and he might even get away with it.
Category/Genre: Adult Sci-Fi/Epic Fantasy/Action&Adventure/Humerous
Release Date: August 18, 2020
Publisher: Orbit
---
I mean but, duh.
I've linked my review of the first book in the series, Smoke Thieves, to avoid spoilers. Please don't read the summary below unless you have read Smoke Thieves (Book #1) and Demon World (Smoke Thieves #2). Also, don't understand the Review for Demon World unless you have read Smoke Thieves.
Summary: The heart-pounding conclusion to the daring Smoke Thieves trilogy.
In this conclusion to the epic Smoke Thieves trilogy, the world has erupted into all-out war. King Aloysius is mining powerful demon smoke and using it to fuel an unstoppable army of children. March, now banished for treason, has joined up with this boy army. Forbidden from ever seeing Edyon again, and overwhelmed by his own betrayal, March no longer cares if he lives or dies. Catherine—now queen of Pitoria—must find a way to defeat the boy army, while also grappling with her own troubles: her secret demon smoke addiction, and unresolved tension with her former lover, Ambrose.
Catherine seeks military support from Calidor by reaching out to her illegitimate cousin Edyon, who has been proclaimed heir to the Calidorian throne. But Edyon has almost no power as he's entangled in the unfamiliar machinations and manipulations of the royal court, finding that being the claimed son of a prince may be no easier than being a bastard.
With Catherine, his love, now married off and moving on, and his brother and sister tortured and executed before him, Ambrose doesn't know what his role in this world is any more. He leads an expedition into the demon world, hoping to destroy the boy army's stores of demon smoke. In this underground world, he runs into Tash, whom everyone had believed dead. She has survived in this new world using magical abilities that, prior to now, only demons had. Aloysius will send his demon smoke-powered boy army to kill them all if he can. But what nobody knows is that there is more to the smoke than meets the eye.
Category/Genre: YA Epic Fantasy
Release Date: August 25, 2020
Publisher: Viking Books
---
I have linked my Review to There Will Come A Darknes (Age of Darkness #2). Don't read the below unless you have already read There Will Come a Darkness…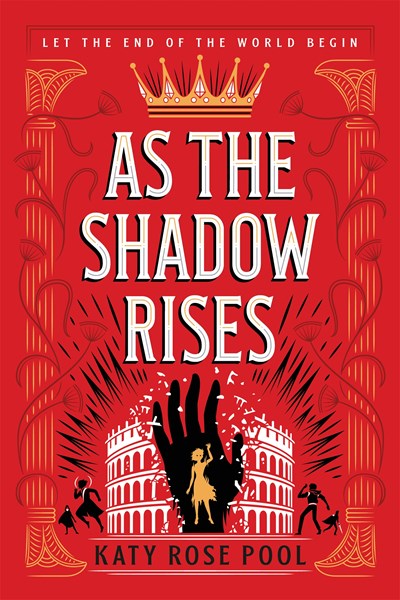 I WILL TAKE WHAT IS MINE WITH BLOOD AND WITH FIRE
And I Did
Summary:
In this sequel to the critically acclaimed There Will Come a Darkness, kingdoms have begun to fall to a doomsday cult, the magical Graced are being persecuted and made refugees, and ancient and undead figures walk the land in secret. But with the world hurtling toward its prophesied end, the Last Prophet's haunting vision reveals the key to stopping the Age of Darkness: finding the long-lost sources of magic taken from the body of a slain god. When our heroes' paths all cross in the City of Mercy, old wounds are reopened, new alliances are tested, and the end of the world begins.
Category/Genre: Young Adult High/Epic Fantasy
Release Date: September 1, 2020
Publisher: Henry Holt and Company
---

Summary:
Getting snowed in at a beautiful, rustic mountain chalet doesn't sound like the worst problem in the world, especially when there's a breathtaking vista, a cozy fire, and company to keep you warm. But what happens when that company is eight of your coworkers…and you can't trust any of them?
When an off-site company retreat meant to promote mindfulness and collaboration goes utterly wrong when an avalanche hits, the corporate food chain becomes irrelevant, and survival trumps togetherness. Come Monday morning, how many members short will the team be?
Category/Genre: Adult Thriller/Psychological
Release Date: September 8, 2020
Publisher: Gallery/Scout Press
---
Don't read below unless you've read Gilded Serpents- Spoilers
---
Summary:
They are each other's fiercest love, greatest danger, and only hope.
Séverin and his team members might have successfully thwarted the Fallen House, but victory came at a terrible cost ― one that still haunts all of them. Desperate to make amends, Séverin pursues a dangerous lead to find a long lost artifact rumored to grant its possessor the power of God.
Their hunt lures them far from Paris, and into the icy heart of Russia where crystalline ice animals stalk forgotten mansions, broken goddesses carry deadly secrets, and a string of unsolved murders makes the crew question whether an ancient myth is a myth after all.
As hidden secrets come to light and the ghosts of the past catch up to them, the crew will discover new dimensions of themselves. But what they find out may lead them down paths they never imagined.
A tale of love and betrayal as the crew risks their lives for one last job.
Category/Genre: Young Adult/Fantasy/Paranormal/Supernatural/Occult
Release Date: September 22, 2020
Publisher: Wednesday Books