Upcoming Releases By Black Authors
Here's what you are getting. A list of ten books by Black authors that you can add to your Goodreads shelf or better, pre-order, now. There aren't any reviews or any fluff. Just the Goodreads links, pre-order information, if there is any to be had and summary/publishing information. For any of your bookish needs and those books that do not yet have any pre-order information, I am providing two lists of Black owned bookstores that you can order from to support Black businesses.
AALBC- Black Owned Bookstore List
Publishers Weekly- Black Owned Bookstore List
Brave and Kind – Black Owned Indie Bookstore – Nic Stone gave a shout out on Twitter – Pre-Order for Dear Justyce linked below!
Semicolon Bookstore- Black Woman Owned Bookstore in Chicago
These are going to go in publishing date order, as of 6/13/20…
---
Summary: In the lands of Bethel, where the Prophet's word is law, Immanuelle Moore's very existence is blasphemy. Her mother's union with an outsider of a different race cast her once-proud family into disgrace, so Immanuelle does her best to worship the Father, follow Holy Protocol, and lead a life of submission, devotion, and absolute conformity, like all the other women in the settlement.
But a mishap lures her into the forbidden Darkwood surrounding Bethel, where the first prophet once chased and killed four powerful witches. Their spirits are still lurking there, and they bestow a gift on Immanuelle: the journal of her dead mother, who Immanuelle is shocked to learn once sought sanctuary in the wood.
Fascinated by the secrets in the diary, Immanuelle finds herself struggling to understand how her mother could have consorted with the witches. But when she begins to learn grim truths about the Church and its history, she realizes the true threat to Bethel is its own darkness.  And she starts to understand that if Bethel is to change, it must begin with her.
Category/Genre: Adult Dark Fantasy/Horror/Occult
Release Date: July 21, 2020
Publisher: Ace Books
---
If you haven't read Mirage- Please be careful of spoilers
Pre-Order Links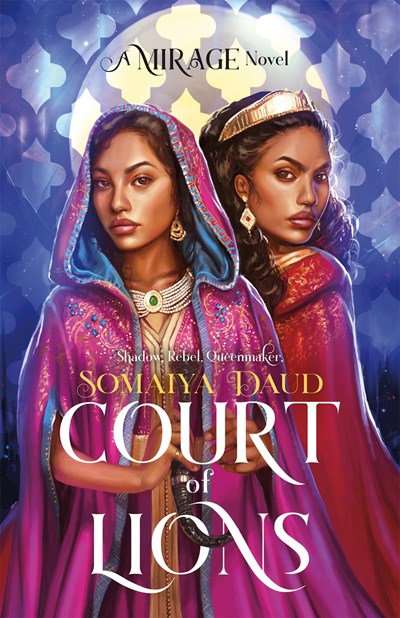 Summary:
The long-awaited second and final installment in the "smart, sexy, and devilishly clever" Mirage series (Renée Ahdieh, author of The Beautiful)!
On a planet on the brink of revolution, Amani has been forced into isolation. She's been torn from the boy she loves and has given up contact with her fellow rebels to protect her family. In taking risks for the rebel cause, Amani may have lost Maram's trust forever. But the princess is more complex than she seems, and now Amani is once more at her capricious nature. One wrong move could see her executed for high treason.
On the eve of Maram's marriage to Idris comes an unexpected proposal: in exchange for taking her place in the festivities, Maram will keep Amani's rebel associations a secret. Alone and desperate, Amani is thrust into the center of the court, navigating the dangerous factions on the princess's behalf. But the court is not what she expects. As a risky plan grows in her mind, and with the rebels poised to make their stand, Amani begins to believe her world might have a future. But every choice she makes comes with a cost. Can Amani risk the ones she loves the most for a war she's not sure she can win?
Category/Genre: YA Epic Fantasy/ Social Themes/ Prejudice&Racism
Release Date: August 4th, 2020
Publisher: Flatiron
---
Pre-Order Links
From award-winning, bestselling author Ibi Zoboi and prison reform activist Yusef Salaam of the Exonerated Five comes a powerful YA novel in verse about a boy who is wrongfully incarcerated. Perfect for fans of Jason Reynolds, Walter Dean Myers, and Elizabeth Acevedo.
The story that I thought

was my life
didn't start on the day
I was born
Amal Shahid has always been an artist and a poet. But even in a diverse art school, he's seen as disruptive and unmotivated by a biased system. Then one fateful night, an altercation in a gentrifying neighborhood escalates into tragedy. "Boys just being boys" turns out to be true only when those boys are white.
The story that I think
will be my life
starts today
Suddenly, at just sixteen years old, Amal's bright future is upended: he is convicted of a crime he didn't commit and sent to prison. Despair and rage almost sink him until he turns to the refuge of his words, his art. This never should have been his story. But can he change it?
With spellbinding lyricism, award-winning author Ibi Zoboi and prison reform activist Yusef Salaam tell a moving and deeply profound story about how one boy is able to maintain his humanity and fight for the truth, in a system designed to strip him of both.
Category/Genre: Young Adult Fiction / Social Themes / Prejudice & Racism
Release Date: September 1, 2020
Publisher: Balzer & Bray
---
No Pre-Order Information Found
The world is changing. Poison desert eats good farmland. Once-sweet water turns foul. The wind blows sand and sadness across the Empire. To get caught in a storm is death. To live and do nothing is death. There is magic in the world, but good conjure is hard to find.
Djola, righthand man and spymaster of the lord of the Arkhysian Empire, is desperately trying to save his adopted homeland, even in exile.
Awa, a young woman training to be a powerful griot, tests the limits of her knowledge and comes into her own in a world of sorcery, floating cities, kindly beasts, and uncertain men.
Awash in the rhythms of folklore and storytelling and rich with Hairston's characteristic lush prose, Master of Poisons is epic fantasy that will leave you aching for the world it burns into being.
Category/Genre: Adult Fiction/Epic Fantasy/Action&Adventure
Release Date: September 8, 2020
Publisher: Tor.Com
---
Filled with mystery and an intriguingly rich magic system, Tracy Deonn's YA contemporary fantasy Legendborn offers the dark allure of City of Bones with a modern-day twist on a classic legend and a lot of Southern Black Girl Magic.
After her mother dies in an accident, sixteen-year-old Bree Matthews wants nothing to do with her previous life, family memories, or her childhood home. A residential program for bright high schoolers at a local university seems like the perfect escape—until Bree witnesses a magical attack her very first night on campus.
A flying demon feeding on human energies.
A secret society of so called "Legendborn" students that hunt the creatures down.
And a teenage mage who calls himself a "Merlin" and who attempts—and fails—to wipe Bree's memory of everything she saw.
The mage's failure reveals Bree's own, unique magic and unlocks a buried memory with a hidden connection: the night her mother died, another Merlin was at the hospital. Now that she knows there's more to her mother's death than what's on the police report, Bree will do whatever it takes to find out the truth, even if that means infiltrating the Legendborn by becoming one of their initiates. But when the Legendborn reveal themselves as the descendants of King Arthur and his knights and explain that a magical war is coming, Bree has to decide how far she'll go for the truth and whether she should use her magic to take the society down—or join the fight.
Category/Genre: YA Fiction/Fantasy/Contemporary
Release Date: September 15, 2020
Publisher: Simon Teen
---
Korey Fields is dead.
When Enchanted Jones wakes with blood on her hands and zero memory of the previous night, no one—the police and Korey's fans included—has more questions than she does. All she really knows is that this isn't how things are supposed to be. Korey was Enchanted's ticket to stardom.
Before there was a dead body, Enchanted was an aspiring singer, struggling with her tight knit family's recent move to the suburbs while trying to find her place as the lone Black girl in high school. But then legendary R&B artist Korey Fields spots her at an audition. And suddenly her dream of being a professional singer takes flight.
Enchanted is dazzled by Korey's luxurious life but soon her dream turns into a nightmare. Behind Korey's charm and star power hides a dark side, one that wants to control her every move, with rage and consequences. Except now he's dead and the police are at the door. Who killed Korey Fields?
All signs point to Enchanted.
Category/Genre: YA Fiction/Social Themes/Violence
Release Date: September 15, 2020
Publisher: Katherine Tegen Books
---
Brave and Kind Black Owned Indie Bookestore– Pre-Order Link
If you have not read Dear Martin – WHAT IS WRONG WITH YOU?!- Also, be careful for spoilers!
In the stunning and hard-hitting sequel to the New York Times bestseller Dear Martin, incarcerated teen Quan writes letters to Justyce about his experiences in the American prison system.
Shortly after teenager Quan enters a not guilty plea for the shooting death of a police officer, he is placed in a holding cell to await trial. Through a series of flashbacks and letters to Justyce, the protagonist of Dear Martin, Quan's story unravels.
From a troubled childhood and bad timing to a coerced confession and prejudiced police work, Nic Stone's newest novel takes an unflinching look at the flawed practices and ideologies that discriminate against African American boys and minorities in the American justice system.
Category/Genre: YA Fiction/ Diversity & Multicultural/ People & Places/ African-American/ Social Themes/ Prejudice & Racism
Release Date: September 29, 2020
Publisher: Crown Books
---
I'm including this because of the entirety of the project:
"The Mirror: Broken Wish marks the first book in an innovative four-book fairy-tale series written by Julie C. Dao, Dhonielle Clayton, Jennifer Cervantes, and L. L. McKinney, following one family over several generations, and the curse that plagues it."
Disney's official page can be found here: The Mirror Series (Summaries For All Four Books Are Below)
Pre-Order Links For The Broken Wish
Thank you to Julie C. Dao for providing additional information on Dhonielle Clayton, Jennifer Cervantes, and L.L. McKinney's works in the Mirror Series
Sixteen-year-old Elva has a secret. She has visions and strange powers that she will do anything to hide. She knows the warnings about what happens to witches in their small village of Hanau. She's heard the terrible things people say about the Witch of the North Woods, and the malicious hunts that follow.
But when Elva accidentally witnesses a devastating vision of the future, she decides she has to do everything she can to prevent it. Tapping into her powers for the first time, Elva discovers a magical mirror and its owner—none other than the Witch of the North Woods herself. As Elva learns more about her burgeoning magic, and the lines between hero and villain start to blur, she must find a way to right past wrongs before it's too late.
Category/Genre: Young Adult Fantasy/ Fairy Tales & Folklore
Release Date: Oct 6, 2020
Publisher: Disney-Hyperion
Shattered Midnight (The Mirror #2) by Dhonielle Clayton
Summary: 
1928—New Orleans, Louisiana
Zora Broussard has arrived in New Orleans with not much more than a bag of clothes, a beautiful voice, and a pair of enchanted red shoes. Running from a tragic accident caused by her magic, Zora wants nothing more than to blend in, as well as to avoid her overbearing aunt and mean-spirited cousins. Music becomes Zora's only means of escape, yet she wonders if she should give it all up to remove the powers that make her a target, especially as a Black woman in the South. But when Zora gets the chance to perform in a prominent jazz club, she meets a sweet white pianist named Phillip with magic of his own, including a strange mirror that foretells their future together. Falling into a forbidden love, Zora and Phillip must keep their relationship a secret. And soon the two discover the complicated connection between their respective families, a connection that could lead to catastrophe for them both. In the era of segregation and speakeasies, Zora must change her destiny and fight for the one she loves . . . or risk losing everything.
Fractured Path (The Mirror #3) by J.C. Cervantes
Summary:
1965—San Francisco, California
The 1960s are bursting with music and movement and love in San Francisco, perfect for a budding artist like Blake. Unfortunately, she feels barred from the art world by both her gender and her multi-racial heritage, making it tough to land an internship that could put her on the map. That, plus the fact that Blake's family has been notoriously riddled with bad luck, makes her feel like she can't catch a break. Things only get worse when Blake starts to have ominous, confusing visions that grow stronger and more frequent, prompting Blake's aunt and uncle to tell her about a long-lost family heirloom that could be the key to everything. Fueled by the ambiguous clues in her visions, Blake sets out on a journey through the city to retrieve her ancestors' legendary mirror. But Blake is not the only one looking for it. Soon she must attempt to unleash her own dormant powers . . . or else risk all she holds dear.
Splintered Magic (The Mirror #4) by L.L. McKinney
Summary:
2003—New York, New York
Twins Trey and Tai are not like other high schoolers. Besides his crushing lack of popularity, Trey struggles to suppress his surging magical abilities that continually impede his dream of making first chair cello in orchestra. A budding photographer, Tai just wants to take beautiful pictures and find a girlfriend, maybe the new first chair and Trey's rival, Ayesha. But disturbing images keep appearing in Tai's camera lens, bringing up forgotten memories of her mother's disappearance ten years earlier and reigniting the twins' search for her. As the two discover more clues, Trey and Tai also uncover strange secrets about their magical family and about cunning villains who resurface and threaten their very survival. Together, Trey and Tai must work to unearth the past and preserve the future of their family.
---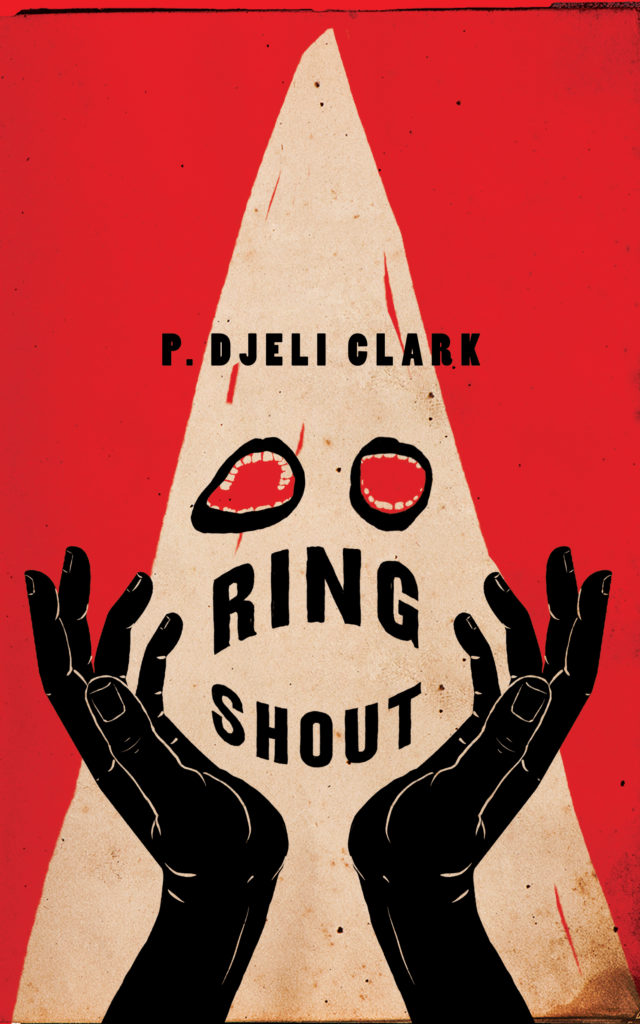 Nebula, Locus, and Alex Award-winner P. Djèlí Clark returns with Ring Shout, a dark fantasy historical novella that gives a supernatural twist to the Ku Klux Klan's reign of terror
D. W. Griffith is a sorcerer, and The Birth of a Nation is a spell that drew upon the darkest thoughts and wishes from the heart of America. Now, rising in power and prominence, the Klan has a plot to unleash Hell on Earth.
Luckily, Maryse Boudreaux has a magic sword and a head full of tales. When she's not running bootleg whiskey through Prohibition Georgia, she's fighting monsters she calls "Ku Kluxes." She's damn good at it, too. But to confront this ongoing evil, she must journey between worlds to face otherworldly nightmares—and her own demons. Together with a foul-mouthed sharpshooter and a Harlem Hellfighter, Maryse sets out to save a world from the hate that would consume it.
Category/Genre: Adult Dark Fantasy/Historical/Horror
Release Date: Oct 13, 2020
Publisher: Tor.Com
---
I'm ending on a book that isn't out till next year- but when you read the summary? Phew…
Sixteen-year-old Deka lives in fear and anticipation of the blood ceremony that will determine whether she will become a member of her village. Already different from everyone else because of her unnatural intuition, Deka prays for red blood so she can finally feel like she belongs.
But on the day of the ceremony, her blood runs gold, the color of impurity–and Deka knows she will face a consequence worse than death.
Then a mysterious woman comes to her with a choice: stay in the village and submit to her fate, or leave to fight for the emperor in an army of girls just like her. They are called alaki–near-immortals with rare gifts. And they are the only ones who can stop the empire's greatest threat.
Knowing the dangers that lie ahead yet yearning for acceptance, Deka decides to leave the only life she's ever known. But as she journeys to the capital to train for the biggest battle of her life, she will discover that the great walled city holds many surprises. Nothing and no one are quite what they seem to be–not even Deka herself.
Category/Genre:Young Adult Fiction / Fantasy / Dark Fantasy
Release Date: February 9, 2021
Publisher: Delacorte
---
There it is! If you have any you would like to add, please do in the comments! If there is information that is wrong or needs to be updated or something I didn't link correctly (I started this at 6:30 AM and it is 11:30- so that is COMPLETELY possible), please let me know. I will go through it again later today.