I have linked Amanda's post from last week basically because our shifts at work clash and I can't catch her and she can't catch me and so we are a week behind in linking each other but we get there (Wash, Rinse, Repeat)
This Saturday Top Five series for readers started back in October and I kind of lost motivation for making it every week. But it's back! This is a series of books that I want to read that all have a common theme. Previously on the blog I have focused on witches, werewolves, thrillers, faeries, fairy tale retellings and high fantasy. I am going to try and bring this series back for every Saturday. 
The Saturday Top Five Schedule for December:
12/6 -Standalone Books
12/13 – Books about Pirates
12/20 – Books that have been made into movies
12/27 – books coming in 2020  With a twist– OF COURSE!
January Schedule To Come
Rules!
Share your top 5 books of the current topic– these can be books that you want to read, have read and loved, have read and hated, you can do it any way you want.
Tag the original post (This one!)
Tag 5 people
---
 Saturday Top Five – 2020 Books To Look Out For- But Here Is The Key– 

THAT JUST HIT MY RADAR
It took me a bit to figure out how to make this work- I've been talking about next year for a while. I've stuck some of them on the landing page under "content related to posts," or will after work, for your viewing pleasure, but then an amazing thing happened… and it is #1 on the list. And that the only place it belong. By the way- the huge shocker of this post? Besides the fact that I have obviously put my own twist on it?
IT WILL BE INCREDIBLY SHORT.
Nah. It makes sense, really. Being they just hit my radar that means one of two things. I know very little about them OR I am extremely slow on the uptake (very common). Either way? Either you already know or I know nothing. So this won't be one of my longer rambling Top 5, but hopefully it will wreck some TBRs!! 🙂  So let's get to it, shall we!
---
How little is known about Grown? HarperCollins/Katherine Tegen Books says it is coming out mid September. Goodreads (linked above) says May. I can wait, doesn't matter to me. Hashtag? #HeKnewBetter
There is no summary.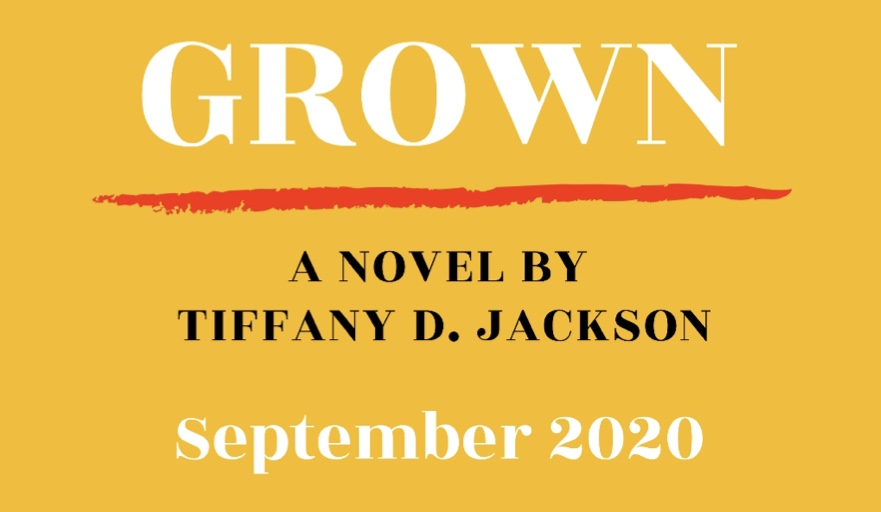 That hashtag alone should give you the creeps no matter what. If you know anything about Tiffany Jackson? That should make you throw-up in your mouth. If you don't know Tiffany Jackson. Shame on you. Read this. Seriously. I don't even care if you read the rest of this post as long as you read that and then buy her books. And then add Grown to your TBR. And pre-order it. 
I'm already banging down doors for an ARC and pre-ordering it. I don't get a discount for the pre-order. I don't care.
---
Horror/Psychological Thriller- if I must tell you
Release Date: July 7, 2020
Publisher: William Morrow
Summary:
A riveting novel of suspense and terror from the Bram Stoker award-winning author of The Cabin at the End of the World and A Head Full of Ghosts.

In a matter of weeks, Massachusetts has been overrun by an insidious rabies-like virus that is spread by saliva. But unlike rabies, the disease has a terrifyingly short incubation period of an hour or less. Those infected quickly lose their minds and are driven to bite and infect as many others as they can before they inevitably succumb. Hospitals are inundated with the sick and dying, and hysteria has taken hold. To try to limit its spread, the commonwealth is under quarantine and curfew. But society is breaking down and the government's emergency protocols are faltering.


Dr. Ramola "Rams" Sherman, a soft-spoken pediatrician in her mid-thirties, receives a frantic phone call from Natalie, a friend who is eight months pregnant. Natalie's husband has been killed—viciously attacked by an infected neighbor—and in a failed attempt to save him, Natalie, too, was bitten. Natalie's only chance of survival is to get to a hospital as quickly as possible to receive a rabies vaccine. The clock is ticking for her and for her unborn child.

Natalie's fight for life becomes a desperate odyssey as she and Rams make their way through a hostile landscape filled with dangers beyond their worst nightmares—terrifying, strange, and sometimes deadly challenges that push them to the brink.  Paul Tremblay once again demonstrates his mastery in this chilling and all-too-plausible novel that will leave readers racing through the pages . . . and shake them to their core.
---
Contemporary? Fantasy? — Why, Yes according to Tor- it is all and more
Release Date: July 7, 2020
Publisher: Tor Books
Summary:
He has been too many things to count. He has been a dragon with a boy on his back. He has been a scholar, a warrior, a lover, and a thief. He has been dream and dreamer. He has been a god.

But "he" is in fact nothing more than a spark of idea, a character in the mind of Sylvia Harrison, 73, award-winning author of thirty novels over forty years. He has played a part in most of those novels, and in the recesses of her mind, Sylvia has conversed with him for years.
But Sylvia won't live forever, any more than any human does. And he's trapped inside her cave of bone, her hollow of skull. When she dies, so will he.

Now Sylvia is starting a new novel, a fantasy for adult readers, set in Thalia, the Florence-resembling imaginary city that was the setting for a successful YA trilogy she published decades before. Of course he's got a part in it. But he also has a notion. He thinks he knows how he and Sylvia can step off the wheel of mortality altogether. All he has to do is convince her.
---
I've linked Goodreads so you can add it to your TBRs but the truth of the matter is that so little about this title is known that Goodreads just provides a link to Tor!
Genre specifics TBD
Release Date: Summer 2020 (Edelweiss has it front listed for November) – Just in case you look for it on Edelweiss.
Publisher: Tor.com
Summary (There isn't a cover as of yet):
We're excited to announce The Factory Witches of Lowell, a new historical fantasy from C. S. Malerich—arriving from Tor.com Publishing in Summer 2020!
For the young women of Lowell, Massachusetts, freedom means fair wages for fair work, decent room and board, and a chance to escape the cotton mills before lint stops up their lungs. When the Boston owners decide to raise the workers' rent, the girls go on strike. Their ringleader is Judith Whittier, a newcomer to Lowell but not to class warfare. Judith has already seen one strike fold and she doesn't intend to see it again. Fortunately Hannah, her best friend in the boardinghouse—and maybe first love?—has a gift for the dying art of witchcraft.
---
I'm cheating only slightly on this one, as I did do a Can't Wait Wednesday late one night when I first saw the cover drop on Twitter. However, I wanted to give it, its proper due as that was only a couple weeks ago. 
Aptly named as I think this will be the year of all the witches, vampires and etc- a trend indeed (in both the YA and Adult categories)
Genre: Horror, Occult, Supernatural, Dark Fantasy
Release Date: July 21, 2020
Publisher: Ace
Summary:
A young woman living in a rigid, puritanical society discovers dark powers within herself in this stunning, feminist fantasy debut.

In the lands of Bethel, where the Prophet's word is law, Immanuelle Moore's very existence is blasphemy. Her mother's union with an outsider of a different race cast her once-proud family into disgrace, so Immanuelle does her best to worship the Father, follow Holy Protocol, and lead a life of submission, devotion, and absolute conformity, like all the other women in the settlement.


But a mishap lures her into the forbidden Darkwood surrounding Bethel, where the first prophet once chased and killed four powerful witches. Their spirits are still lurking there, and they bestow a gift on Immanuelle: the journal of her dead mother, who Immanuelle is shocked to learn once sought sanctuary in the wood.

Fascinated by the secrets in the diary, Immanuelle finds herself struggling to understand how her mother could have consorted with the witches. But when she begins to learn grim truths about the Church and its history, she realizes the true threat to Bethel is its own darkness. And she starts to understand that if Bethel is to change, it must begin with her.
---
OK! That is the latest to come on my radar for next year! What is the latest to come on your radar? Anything catch your eye??!