Venators: Legends Rise (Venators #3) By Devri Walls Cover Reveal
Author: Devri Walls
Publication: May 6th, 2020
Publisher: Brown Books
Summary/Links for Venators: Legends Rise after Books 1 and 2, Write Reads Blog Tour/Giveaway Details
(Avoiding Spoilers For Those New To The Series)
---
ALL BLOGGERS! There are very limited spots left to join the Venators Ultimate Blog Tour Starting With the First Venators Series Installment: Magic Unleashed starting in March (Links needed above).
ALL BLOGGERS! Enter A Venators Themed Giveaway That BLOWS AWAY ANY BOOK SUBSCRIPTION ON THE MARKET By December 22nd. Contents Include:
Singed Copies of:

Venators: Magic Unleashed (Book #1)

Venators: Promises Forged (Book #2)

Early Edition of Venators: Legends Rise (Book #3)

Signed Bookmark

A set of signed collector character cards.

Custom Venator sticker designed by Meg Lloyd: @thirdchildart

Custom signed print of Beltran art (Shapeshifter and all around scamp) art created by Christian Austin.

A dragon ear cuff

3 necklaces

Sword

Dagger

Yin/Yang

Temporary tattoo of Beltran (Trust me- there is a reason Beltran keeps coming up…)
You must be wondering- ummmm- that is a lot– Quality? International? 
YUP! Fully International!
Pictures? I've got pictures- straight from Write Reads- Ready?
Complete Set: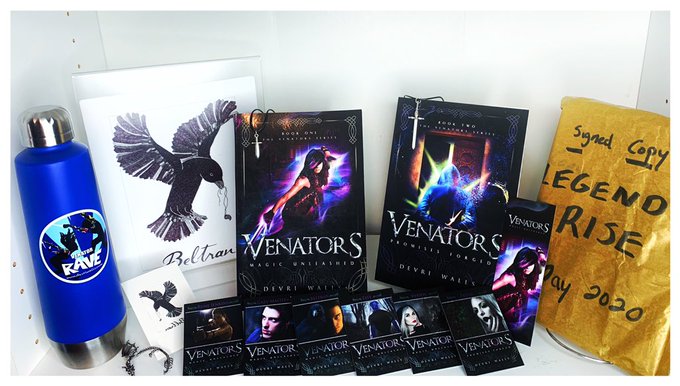 Jewelry Up Close: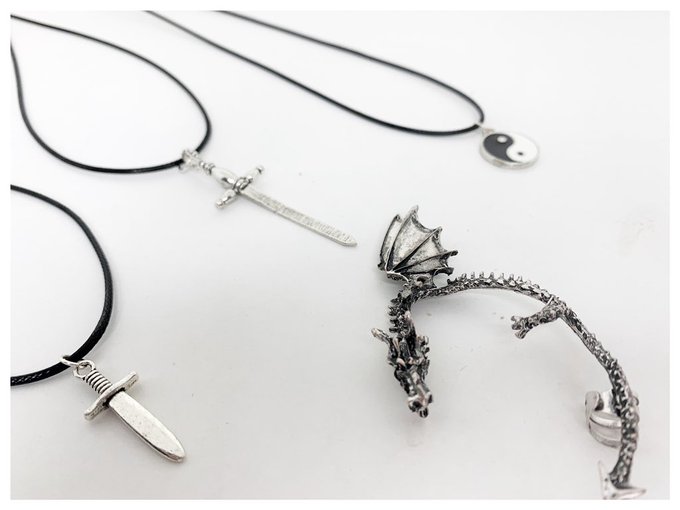 Character Cards, Water Bottle:
---
My Pitch
First- I have to tell you this- and as anyone who has been around my site can tell you at this point? I don't pull punches. I am honest. If you still don't believe me? Well. There's the most recent top 5, oh and this, and that. So yeah. Believe me on this:
I couldn't be more honored, thrilled and redicoulsy excited to:
A) Exclusively having the honor to reveal the cover for Legends Rise.
B) Having brought together The Write Reads and Devri Walls for the Ultimate Tour that is about to take off. 
C) Recommending anyone who is even thinking about reading the Venators series and/or requesting a spot on the tour to JUST DO IT! And for those bloggers thinking about requesting a spot? If you have the slightest inclination? GET ON IT FAST because there aren't many spots left and this series is going a hidden gem in the YA world, falling towards the older side of YA. But.. let me stop my pitch and let it speak for itself:
*Plus on a side note- this is an author and independent publisher that actually get it. Bloggers, working with them and how we can work together? They actually came to my blog in the most positive way and it was incredible.* Just something to keep in mind. 

---
This is where the Venators Ultimate Blog Tour Starts in March 2020
Author: Devri Walls
Publication: October 1st, 2016
Publisher: Brown Books
Summary:
Six years ago, Grey Malteer was attacked by creatures he thought couldn't possibly exist. They repeated a word, calling him a name he'd never heard before…Venator. Since then, his life has been a hellhole of secrecy—hiding old pain alongside strange new abilities.

Rune Jenkins has an itch, as she calls it, but it's more than that. It's an anger that builds up like the inside of a boiler whenever she's around anything remotely supernatural. The pressure is growing steadily worse and she can't understand why. All she knows is—her control is slipping.

By order of an unknown council Grey and Rune are pulled through a portal in the St. Louis arch, landing them in an alternate dimension where creatures of myth and legend exist. A realm that calls them, Venators.

Made up of centuries old fae, vampires, werewolves, elves and succubi the council's corrupt nature becomes obvious as they seek to wield the newly returned Venators as weapons. Wedged in an impossible position, Grey and Rune must decide their fate—do they go against the council's wishes and help the innocents of this unforgiving land, or face the possibility of execution by the council.
---
Author: Devri Walls
Publication: April 30th, 2019
Publisher: Brown Books
Summary:
It has been mere days in the world of Eon, where Rune Jenkins, her twin brother Ryker, and their friend Grey have been trapped, fighting for their lives. After discovering the truth of their ancestry, the three are far from home, and far from anything resembling their mundane lives of the past.
While Ryker is still held captive by the eerily beautiful Zio and her goblins, Grey falls into the clutches of Feena, the Fae queen. She begins to drain his soul bit by bit to feed her dark underground garden, and Grey has no hope of escaping on his own.

It is now up to Rune to save Grey, as his precious time slips away inexorably. But the Council has denied her permission to embark on a rescue mission, until she can harness her Venator gifts and prove herself capable of venturing into the Fae queen's territory. As Rune discovers that promises in Eon are forged with life-or-death consequences, she realizes that she must act quickly, or else be swallowed – and Grey along with her – by the dangers of Eon.

---
Author: Devri Walls
Publication: May 3, 2020
Publisher: Brown Books
Summary:
AN OATH SWORN
BONDS TESTED
A LIFE HANGING IN THE BALANCE

The path will be forged in sweat and blood. 
Rune, Grey, Beltran, and Verida set out to rescue their friend and mentor, Tate, from the gladiator
games. But first they must navigate the perils of Eon and its warring factions. Each carries with them a secret that threatens to tear their group apart from within. Rune now bears the mark of the promise she made to save Grey's life—a nixie bubble lodged in her arm that could call her away to do their bidding or spell her death.

Even as their loyalty to their cause and to one another faces its greatest test, Rune's twin brother Ryker is forging an alliance with their mortal enemy, the powerful sorceress Zio, who has plans of her own for the Venators and Eon. Hearts will be bared, secrets unveiled, and relationships made and destroyed in this stunning new installment of VENATORS.