---
Dark Shores, the first book in Danielle Jensen's latest series released in May 2019 and just missed my Summer Fling August Update, which is a shame. It is responsible for so many of my current reading trends. I realized an infinity for all things inspired by Ancient Rome/Greece. This is where the "BRING ME ALL THE GODS… ALL YOUR METTLING GODS…" started… they don't even have to be from Greek or Roman lore… they can be from any cultural background or completely fabricated… but BRING THEM TO ME… YES!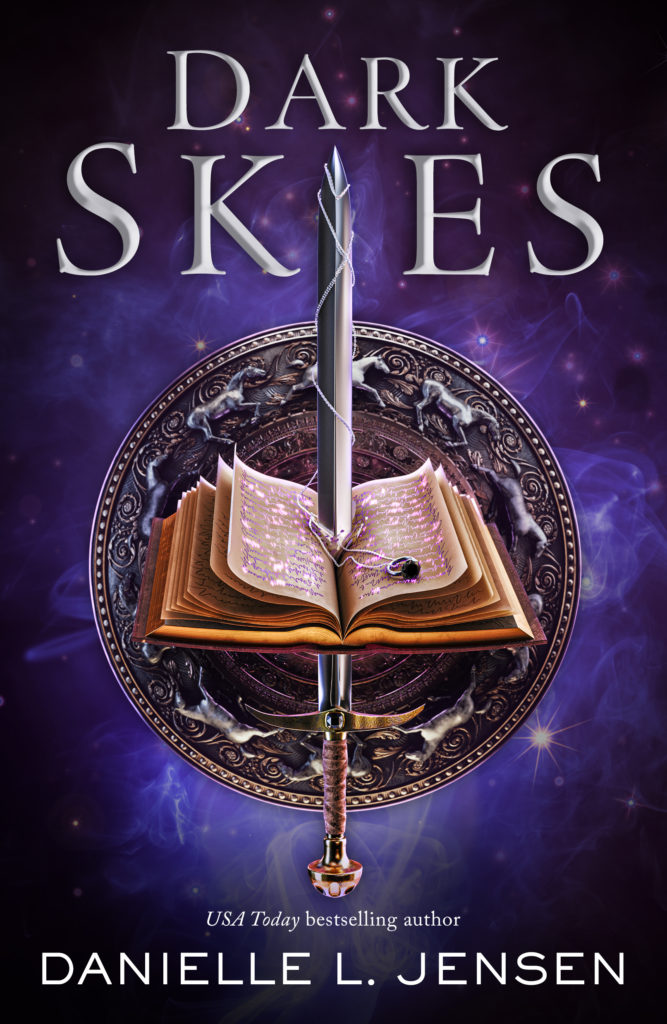 ---
Anyhow, I never got to interview Ms.  Jensen. Maybe, should ARCs become available for Dark Skies (Dark Shores, #2) <– add to you goodreads shelves- I'll get another opportunity to thank her for all the things I realized. And as many of you might know (and if not you can read the linked review above), Dark Shores blindsided me. Not that I didn't think I would like it. I was pretty sure I would, but damn I loved it!
So I was thrilled to hear about the May release of Dark Skies. FINALLY, we have a cover!
NOW! Here is the twist- If you've read Dark Shores? FANTASTIC! If you haven't – you can start with Dark Skies! See the below explanation from Danielle Jensen:
SURPRISE! I'm sure quite a few of you are reading this email and wondering what is going on and why this novel isn't about Marcus and Teriana. Put your fears to rest, because I haven't abandoned them – you'll be seeing their points of view once again in the third book. And you'll definitely be seeing them in DARK SKIES, albeit from a somewhat different vantage point.
I've talked about how this series is the biggest in scope of anything I've written, and I think now you'll all be starting to understand what I mean by that. The setting isn't just a few kingdoms, but an entire world. It crosses a dozen nations, it contains diverse cultures and races and religions, it faces evils that are both human and decidedly inhuman. But at the heart of it has always been the friendship between two girls, and I hope you're all excited to explore the other half of that friendship.
Now here's the REALLY fun part, and what makes what Tor Teen and I are doing with this series different from other YA fantasy series.  You can start reading the series with DARK SHORES OR you can start reading with DARK SKIES! They are both starting points to the series that will converge in the third book!
DARK SKIES hits shelves May 5, 2020, and I can't wait for my readers to meet Lydia and Killian!!
---
Release Date:  May 5th, 2020
Publisher:  Tor Teen
Synopsis:
Unwanted betrothals, assassination attempts, and a battle for the crown converge in Dark Skies, the sequel to the YA fantasy Sarah J. Maas called "everything I look for in a fantasy novel"
A RUNAWAY WITH A HIDDEN PAST
Lydia is a scholar, but books are her downfall when she meddles in the plots of the most powerful man in the Celendor Empire. Her life in danger, she flees west to the far side of the Endless Seas and finds herself entangled in a foreign war where her burgeoning powers are sought by both sides.
A COMMANDER IN DISGRACE
Killian is Marked by the God of War, but his gifts fail him when the realm under the dominion of the Corruptor invades Mudamora. Disgraced, he swears his sword to the kingdom's only hope: the crown princess. But the choice sees him caught up in a web of political intrigue that will put his oath—and his heart—to the test.
A KINGDOM UNDER SIEGE

With Mudamora falling beneath the armies of the Corruptor, Lydia and Killian strike a deal to save those they love most—but it is a bargain with unintended and disastrous consequences. Truths are revealed, birthrights claimed, and loyalties questioned—all while a menace deadlier and more far-reaching than they realize sweeps across the world.