It has been a while since I participated in Top Ten Tuesday, which is currently being run by the lovely Jana over at That Artsy Reader Girl.
This week's (October 22nd, 2019) topic: Books I'd Give Different Titles To but when I saw the twist  TBR and BEYOND put on it, I decided I had to take it on!
The only rule I've opposed upon myself is that I'm not allowed to include anyone from The Walking Dead. And that has nothing to do with how pissed off I am with it at the moment. Just seems pointless.

---
---
Six of Crows – The Dregs (no 

not all of them

)
Ok Let's Get the Tony Stark moment out of the way early
And you know…
Now that, that is out of the way…
1) Kaz- Of Course
He's got that damn kane (wait. is it cane or kane? look it is 530 in the morning and I haven't slept and the moving and a break, please because neither look right and the books are already packed)… and all the knives and the picking of locks… and I don't think the leg thing is gonna be an issue, really.
---
2) Inej
I think this is kinda a given- the knife work? The acrobatic/tumbler training? The ability to get anywhere, move anywhere, do anything without being seen or heard. Yes. Please Thank you.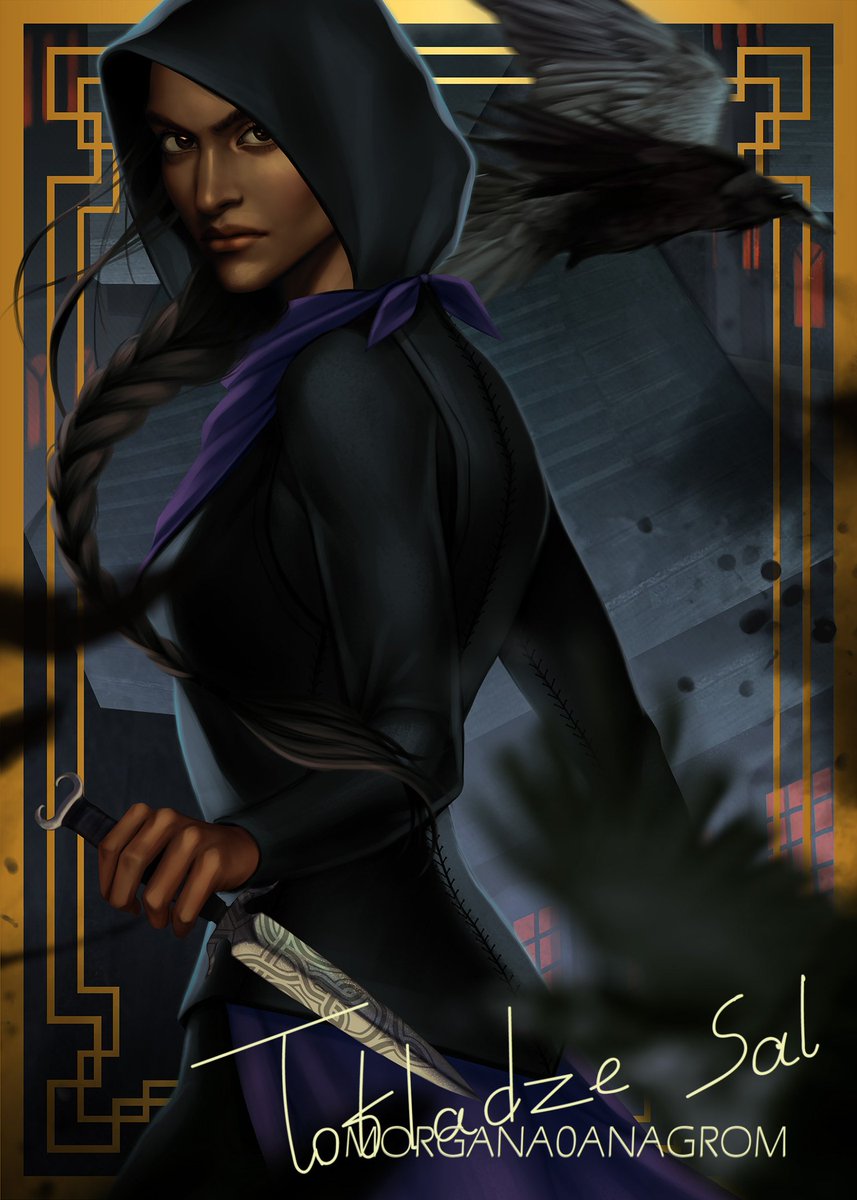 ---
3) Nina
She doesn't even have to go near a horde to start smashing skulls open and tearing out brains. Nuff said
Copyrights to Kevin Wada (if anyone has a link, please let me know)
---
4) Venators Series- Verida (Dracula's Daughter)
Is there any precedence for a zombie biting a vampire? I'm not sure there is but if anyone could handle it? It is Dracula's daughter. So I say, bring her on.
---
5) There Will Come A Darkness- Specifically Jude
But really- anyone with the Grace of Heart
Enhanced agility, sight, hearing, senses… I mean what else could you ask for when dealing with zombies???
Here's a preorder I'm pissed I missed out on…
---
6) The Girl With All The Gifts- Melanie
The thing is I can't tell you why. If you read the book you know. If you haven't read the book? Just trust me.
---
8) The Written- Farden
The Mage with the intrinsic magic tattooed on his back- one of the Written with a temper – oh and wait for it…
9) The Written- Farfallen
The wise and sage dragon… I want them both. We need transportation and I can't think of better transportation than a dragon that doesn't just fly and spit fire but can strategize, philosophize emote. Hell yes!
---
10) My Mom
No seriously. She has watched every episode of the Walking Dead more times than I've watched the Golden Girls, Clue and listened to the audible of Six of Crows combined. I'm not sure what that says about my mom but it is what it is. And I wouldn't want to go on any zombie apocolypse without her…
Just know she'd monopolize Farfallen because of her disability.
---
Ok I don't know about you but I think that is one kick-ass zombie slaying team right there and as long as they can all work together- ok, that might be their weak point. I think we have a shot of surviving the new world order.
What do you think? Who would you have on your squad of ass kicking zombie fighters? What do you think of my choices?