This meme is hosted at Wishful Endings, to spotlight and discuss the books we're excited about that we have yet to read. Generally they're books that have yet to be released. It's based on Waiting on Wednesday, hosted by the fabulous Jill at Breaking the Spine. If you're continuing with WOW, feel free to link those up as well! Find out more here. 

---
Goodreads Link Below For We Set the Dark on Fire and We Unleash the Merciless Storm 
We Unleash the Merciless Storm can be filed into three simple categories.
1. ARCS that will not be offered and/or will be offered to a select few that does not include me (see the likes of Kingdom for a Stage).
---
2. The second book in a series where the first book, We Set the Dark on Fire was heralded far by just about everyone, and yet I've heard just about crickets on this second book in the series.
---
3. Sequels I have been waiting for since reading the last word of the first book. AND I can, to this day, the when, where and what I did next of that moment. I was sitting against the window at the corner of my bed at about two in the morning, because I couldn't stop reading We Set the Dark on Fire and then immediately wrote the review <— link to said review in all its "glory". I say "glory" because it was two am and Lord, I haven't checked it and I don't even want to know.
Then I just laid down and instead of sleeping just lied there.
Stunned.
---
https://www.youtube.com/watch?v=UvUaRrJoXpQ

---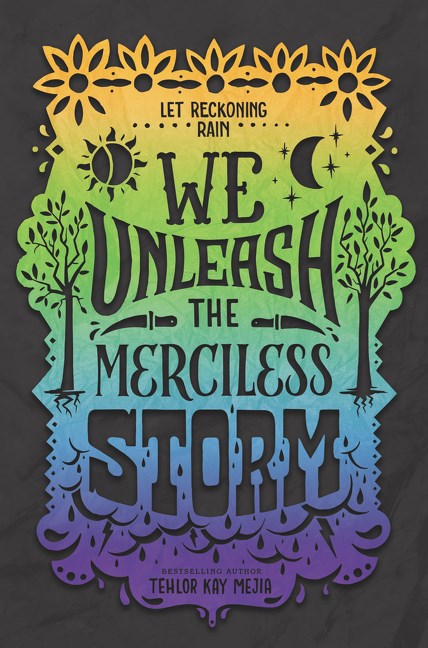 ---
Title:  We Unleash the Merciless Storm
By:  Tehlor Kay Mejia
Release Date:  February 25, 2020
Publisher:  Katherine Tegen Books
Synopsis:
We Set the Dark On Fire (Goodreads link and synopsis first for those who haven't read it and for those that have, We Unleash the Merciless Storm is below)
At the Medio School for Girls, distinguished young women are trained for one of two roles in their polarized society. Depending on her specialization, a graduate will one day run a husband's household or raise his children, but both are promised a life of comfort and luxury, far from the frequent political uprisings of the lower class. Daniela Vargas is the school's top student, but her bright future depends upon no one discovering her darkest secret—that her pedigree is a lie. Her parents sacrificed everything to obtain forged identification papers so Dani could rise above her station. Now that her marriage to an important politico's son is fast approaching, she must keep the truth hidden or be sent back to the fringes of society, where famine and poverty rule supreme.
On her graduation night, Dani seems to be in the clear, despite the surprises that unfold. But nothing prepares her for all the difficult choices she must make, especially when she is asked to spy for a resistance group desperately fighting to bring equality to Medio. Will Dani cling to the privilege her parents fought to win for her, or to give up everything she's strived for in pursuit of a free Medio—and a chance at a forbidden love?
---
We Unleash the Merciless Storm:
---
In this nail-biting sequel to Tehlor Kay Mejia's critically acclaimed fantasy novel We Set the Dark on Fire, La Voz operative Carmen is forced to choose between the girl she loves and the success of the rebellion she's devoted her life to.
Being a part of the resistance group La Voz is an act of devotion and desperation. On the other side of Medio's border wall, the oppressed class fights for freedom and liberty, sacrificing what little they have to become defenders of the cause.
Carmen Santos is one of La Voz's best soldiers, taken in when she was an orphaned child and trained to be a cunning spy. She spent years undercover at the Medio School for Girls, but now, with her identity exposed and the island on the brink of civil war, Carmen returns to the only real home she's ever known: La Voz's headquarters.
There she must reckon with her beloved leader, who is under the influence of an aggressive new recruit, and with the devastating news that her true love might be the target of an assassination plot. Will Carmen break with her community and save the girl who stole her heart—or fully embrace the ruthless rebel she was always meant to be?