It is Wednesday and that means WWW World of Words, hosted weekly by Taking on a World of Words.
What is WWW Wednesday?
What are you currently reading?
What did you recently finish reading?
What do you plan on reading next?
YES! I know! This is not the normal clear flowing week to week orderly state of the book union status update (of books and reviews) because…  my reading has actually become a mood.
Now don't make fun. I've never been a mood reader. But last week and this week life has LIFED in a serious way and I guess I HAVE become a mood… so yeah. Luckily I'm pretty ahead in terms of publishing dates… so I have some wiggle room but I do need to be careful.
So for those readers out there are used to being mood readers… HELP ME! How do you cope??? How do you manage publishing dates vs. Mood reads?? Please help me!!!
What did you recently finish reading?
Tenth Girl By Sara Faring (Review Coming Tomorrow)
FFBC Blog Tour Interview – Saturday, September 21st
A complete mood read I had no right reading yet and on top of that? Just know it completely ripped me in half and ruined me for every other book that exists in the world. What are words?
What are you currently reading?
Tiger Queen by Annie Sullivan- Out September 10th
The Library of the Unwritten (A Novel From Hell's Library #1) A.J.Hackwith- Out October 1st
What will you read next?
Remember my mood has the right to change this on the drop of a dime but right now- keeping in mind publishing dates and my current mood? 
Ok let me just be honest here. Should I really read these now?  OK. The first one I can justify! Absolutely. So that is a win-win!
The second two? No. BUT I WANT TO. So. Come at me. I wanted to read 10th Girl when I WANTED to read it. AND isn't it punishment enough that I have to keep pushing back Hex Life because it doesn't come out till October 1st??! And it is an anthology so like… fast read. BAH.
Seriously The Bone Ships (Tide Chile Trilogy) by RJ Barker has been taunting me for like three weeks now. I. can't. Take. It. Any. More. MINE. But I had so many Beginning of Sept Books to get through. NOW NOW NOW- Out Sept 24th. – I'm telling you Orbit is going to slaughter the Adult Fantasy market this fall/winter. Wait for it…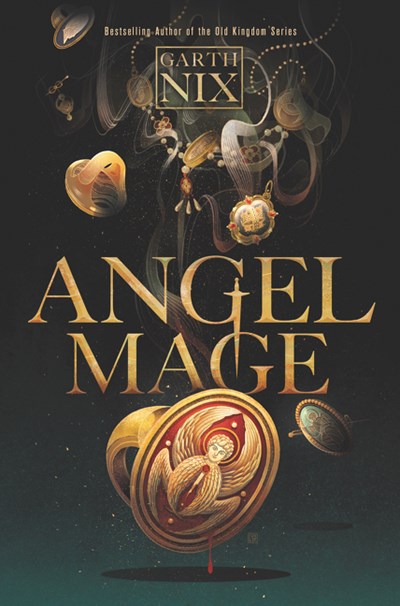 Angel Mage by Garth Nix- Out October 1st
I'm not sure what the greater shock is here. 1) That I was granted the ARC or 2) That I have held out this long in reading it. AHHHHHHHHHHHHHHHHHHHHHH.
In the Hall with the Knife by Diana Peterfreund- Out Oct. 8
Ok admittedly, despite the name, this is probably the lightest book I've listed. But I MEAN IT IS CLUE PEOPLE. I fangirl squealed when I got my hands on this damn book LIKE SERIOUSLY. Plus I have a fantastic Q and A with Ms. Peterfreund and she is my level of Clue Geek personified. Like down to the quoting the movie and picking out her favorite scene, which is actually the same as my mom's! So yeah– I can do slapstick clue level squealing and I've BEEN DYING TO SINK INTO THIS BOOK SINCE WHAT? I DON'T EVEN KNOW. And I have the interview to post first. So. Yeah. THIS IS GOING DOWN. October 8th or not.
pssst … don't tell anyone but if i was being honest and could write review of some january books? i'd probably just read infinity sons, scavenge the stars and seven deadly shadows because revenge. death. magic. dark and high fantasy — see. mood. issa mood. 
OK! How is everyone finishing up the last week of summer? 
How do you balance mood reading and publisher deadlines (with ARCS)? How bad off am I? Have I gone completely nutters or will I get through this and get back to my normal can roll with deadlines self?