From Devouring Books (Linked In Title Above):
This Top 5 series started back in October and I kind of lost motivation for making it every week. But it's back! This is a series of books that I want to read that all have a common theme. Previously on the blog I have focused on witches, werewolves, thrillers, faeries, fairy tale retellings and high fantasy. I am going to try and bring this series back for every Saturday. 
The upcoming schedule is:
8/24/19 — Books about Dragons
8/31/19 — Books with a Road Trip
9/
7/19 — Summer Reads 
**pssst don't tell anyone but I'm going rogue on this one. Because. Can't. Pick. Five. From. Summer. Fling. WON'T.
9/14/19 — Set in Space
9/21/19 — Over 500 Pages 
9/28/19 — Books with Maps
Rules!
Share your top 5 books of the current topic– these can be books that you want to read, have read and loved, have read and hated, you can do it any way you want.
Tag the original post (This one!)
Tag 5 people-

 Anyone can join– which they have been so yay!
All Rights To This Picture Owned By Liam Agency And Associates
Psst….These two are not capable of breathing fire. They can't even look into the damn camera. Dracarys my…. crap Liam's coming. Let me shut up.
 
Dragons! You have to have dragons! ALL THE DRAGONS! Bring me your tired, your humbled, your DRAGONS! Now… In no particular order….
The Written By Ben Galley (Book 1 in the Emaneska Series) (Review Linked)
HA! You only think you have Dragons! Then Ben Galley says HOLD MY KEG. Do your Dragons feel, talk and emote? Are they wise? Sage? NO! Then step a side, sir because you don't have real dragons.

Released: December 2010
Publisher: BenGalley.Com
Synopsis:
A spellbook has gone missing from the libraries of Arfell – a very old and extremely powerful spell book from the time of dark elves and demons. Five scholars are dead, the magick council is running out of time and options, and the Arka are once again on the brink of war with the Siren dragon-riders.
It falls to Farden the Written Mage to keep the world from falling into chaos. Entangled in a web of lies and politics, Farden must recover the spellbook before an ancient enemy rises, even if it takes journeying halfway across icy Emaneska and back.
In his fight for answers, Farden will unearth a secret that not only shakes the foundations of his world, but threatens the entire future of Emaneska. Sorcery, death, drugs and the deepest of betrayals await him.
Welcome to Emaneska.
 
2) The Bone Ships by RJ Barker (Goodreads link)
Hey! Remember yesterday, when I said to watch this space for lots of good things coming from Orbit? Well in case you don't or didn't get to see it, here's the link, where it started.
Here's another! I am soon to dive into this epic fantasy and cannot wait for everyone to have the chance, as well. Barker is a name familiar to lovers of assassins.
I've now been schooled (and chided) on her after the Top 5 Saturday list on assassins. I thustly added the Wounded Kingdom series to my TBR List. That is the Goodreads link so you can do the same, if you are a dunce and didn't know like me.
Barker has now moved in to the Dragon Sphere with The Bone Ships (Tide Child Trilogy Book 1).

Thank you Orbit for an ARC
Released: September 24th 
Publisher: Orbit
Synopsis :
For generations, the Hundred Isles have built their ships from the bones of ancient dragons to fight an endless war.
The dragons disappeared, but the battles for supremacy persisted.
Now the first dragon in centuries has been spotted in far-off waters, and both sides see a chance to shift the balance of power in their favour. Because whoever catches it will win not only glory, but the war.
 
3) Priory of the Orange by Samantha Shannon (Goodreads Link)
Someday I'm going to get through one of these Top Five Saturdays without Dorothy Zbornak coming to my defense. NO I HAVE NOT READ IT YET. BUT I have the audible, which was gifted to me. So, I will. Promise. I haven't even gotten to Kristoff yet, FFS and he's been around MUCH LONGER. Don't you think I should at least get to Kristoff first? I just got into YA like what? 18 months ago? I'm doing the best I can… And anyway…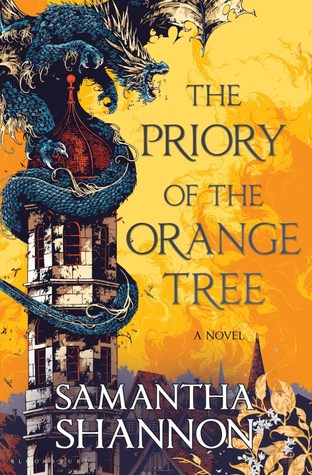 Release Date: February 26, 2019
Publisher: Bloomsbury
Synopsis:
A world divided.
A queendom without an heir.
An ancient enemy awakens.
The House of Berethnet has ruled Inys for a thousand years. Still unwed, Queen Sabran the Ninth must conceive a daughter to protect her realm from destruction—but assassins are getting closer to her door.
Ead Duryan is an outsider at court. Though she has risen to the position of lady-in-waiting, she is loyal to a hidden society of mages. Ead keeps a watchful eye on Sabran, secretly protecting her with forbidden magic.
Across the dark sea, Tané has trained all her life to be a dragonrider, but is forced to make a choice that could see her life unravel.
Meanwhile, the divided East and West refuse to parley, and forces of chaos are rising from their sleep.
4) Fire and Heist by Sarah Beth Durst (Goodreads link)
Fire and Heist has all the things I look for in a book. I am dead set on reading it. I cannot wait to read it. Heist? It is in the title. Crew? Yup! Crew, Heists and dragons! Fire and Heist might as well have my name on the cover but since I didn't write it I would get thrown in jail for plagiarism or insanity. The latter would probably be more accurate. And so I will have to settle with just falling in love with it when I do, in fact read it…

Release Date: December 2018
Publisher: 
Crown Books
Synopsis:
In Sky Hawkins's family, leading your first heist is a major milestone–even more so than learning to talk, walk, or do long division. It's a chance to gain power and acceptance within your family, and within society. But stealing your first treasure can be complicated, especially when you're a wyvern–a human capable of turning into a dragon.
Embarking on a life of crime is never easy, and Sky discovers secrets about her mother, who recently went missing, the real reason her boyfriend broke up with her, and a valuable jewel that could restore her family's wealth and rank in their community.
With a handpicked crew by her side, Sky knows she has everything she needs to complete her first heist, and get her boyfriend and mother back in the process. But then she uncovers a dark truth about were-dragon society–a truth more valuable and dangerous than gold or jewels could ever be. The streets of Creije are for the deadly and the dreamers, and four crooks in particular know just how much magic they need up their sleeve to survive.
Tavia, a busker ready to pack up her dark-magic wares and turn her back on Creije for good. She'll do anything to put her crimes behind her.
Wesley, the closest thing Creije has to a gangster. After growing up on streets hungry enough to swallow the weak whole, he won't stop until he has brought the entire realm to kneel before him.
Karam, a warrior who spends her days watching over the city's worst criminals and her nights in the fighting rings, making a deadly name for herself.
And Saxony, a resistance fighter hiding from the very people who destroyed her family, and willing to do whatever it takes to get her revenge.
Everything in their lives is going to plan, until Tavia makes a crucial mistake: she delivers a vial of dark magic—a weapon she didn't know she had—to someone she cares about, sparking the greatest conflict in decades. Now these four magical outsiders must come together to save their home and the world, before it's too late. But with enemies at all sides, they can trust nobody. Least of all each other.
5)
Fireborne (The Aurelian Cycle #1) 
 by Rosaria Munda (Goodreads Link- add to your TBR and there is a giveaway going)!
Fireborne has just recently come on my radar and it looks like a doozy! Revolution, war, politics, dragons and all kinds of mess! Where do I sign-up to break myself?!
Release Date: October 15, 2019
Publisher:
G.P. Putnam's Sons Books
Synopsis:
Annie and Lee were just children when a brutal revolution changed their world, giving everyone—even the lowborn—a chance to test into the governing class of dragonriders.
Now they are both rising stars in the new regime, despite backgrounds that couldn't be more different. Annie's lowborn family was executed by dragonfire, while Lee's aristocratic family was murdered by revolutionaries. Growing up in the same orphanage forged their friendship, and seven years of training have made them rivals for the top position in the dragon riding fleet.
But everything changes when survivors from the old regime surface, bent on reclaiming the city.
With war on the horizon and his relationship with Annie changing fast, Lee must choose to kill the only family he has left or to betray everything he's come to believe in. And Annie must decide whether to protect the boy she loves . . . or step up to be the champion her city needs.
From debut author Rosaria Munda comes a gripping adventure that calls into question which matters most: the family you were born into, or the one you've chosen.
Let's Chat!
 What did you think?
What are your favorite books with dragons that you have read or ones that you are looking forward to reading?
Anything in my list that you have read or looking forward to reading?
Or maybe you just want to yell at me because I haven't read anything by Jay Kristoff yet or Priory of the Orange yet?