This week's Top Ten Tuesday from Artsy Reader Girl is Top Ten Characters I would want as best friends. I really want to do a Top Ten because I haven't in a long time. However, I was pretty sure I did one just like this recently and when I searched my blog I did find one. If you would like to check it out it is here:
I also remember one that I missed that I really wanted to do with a twist. So I decided to go back and do that, instead. And so I give you the Tuesday Top (Five) Book Characters I would want to crash a TV Show or Movie.
1) Nina Zenik (Six of Crows/Crooked Kingdom)– > Coupling
Art by Kevin Wada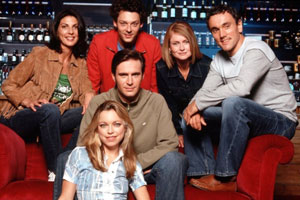 Ok so brief explanation for those that don't know Coupling. It is the raunchier, British take on Friends. And it is hysterical. I liked Friends but Coupling was far better. Nina could stand with and match wits with the entirety of them. Jeff would have a lot more than random chicken parts running around his brain. Patrick's third eye would be permanently shut. Steve… well, Steve would just be too busy digging out of his latest gaffe with Susan. And Nina, if she so choose, would flirt her way into Jane's bedroom in three seconds flat. Sally would probably just be entirely jealous that she existed and was much younger than her.
2) Purple Demon Smoke (Smoke Thieves/Demon World)—> Avengers EndGame
3) The Thunderhead (Scythe/Thunderhead/Toll) —> Good Place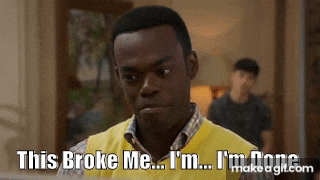 The Thunderhead isn't supposed to interfere. He wants nothing more than the best for humanity. He sees everything. Sticking him in The Good Place? He would know everything. He would know what Michael is up to. He would know that the fab four don't belong there and everything that befalls them from episode one but he couldn't stop anything. He could root for them and hope for them. But what else could he actually do? Nothing. It would break The Thunderhead. But it would be nothing but fun for the rest of us. Ok maybe just me. But I'm going with it.
4) Verida (Venators Unleashed/Promises Forged)—> Angel
Why didn't Dracula ever show up on Angel? I mean it stands to reason he would pop up out of the Hellmouth, no? Well why not have his daughter, Verida come to Los Angeles, instead? I mean it makes perfect sense. Wolfram and Heart would certainly love her services. Who better to bring Angel down than than Dracula's daughter? And who better to double-cross them and seek Angel's help than Dracula's daughter? I think this is one time Joss Whedon missed an amazing storyline. If he can bring Darla back and knock her up with Angel's son? I think he could have gotten this down. Let's get it done.
5) Deadly Class—>Umbrella Academy
OK! I can only imagine- let me have it. What do you think of how I did? What/who would you choose to cross over?