This Top 5 series started back in October and I kind of lost motivation for making it every week. But it's back! This is a series of books that I want to read that all have a common theme. Previously on the blog I have focused on witches, werewolves, thrillers, faeries, fairy tale re-tellings and high fantasy. I am going to try and bring this series back for every Saturday.
The schedule for July is:

7/6/19 — Books set at Boarding Schools
7/13/19 — Books about Royalty
7/20/19 — Sequels
7/27/19 — Psychological Thrillers
Rules!
Share your top 5 books of the current topic– these can be books that you want to read, have read and loved, have read and hated, you can do it any way you want.
Tag the original post (This one!)
Tag 5 people- I going to tag the same five from last week because I don't think I saw them pop around yet lol…
Sequels and Sequels of Sequels AKA Trilogies… This is gonna be a pip because see Amanda plays within the rules. I guess she has to since she created the tag and has to set a good image. I however am the Tony Stark to her Steve Rogers and am stubborn. I won't choose and no one can make me. So here we go. 
Just to be fair let's do this in date order, shall we? Oh and disclaimer: These are just the ones I have dates for… 
Well this one is easy because I can just keep it here from last week!
Demon World by Sally Green, the sequel to Smoke Thieves will be released on August 6th
And no I won't give a synopsis because SPOILERS. Blessed to have an ARC and included on the blog tour! 
Here is the synopsis for
The Smoke Thieves:
In a land tinged with magic and a bustling trade in an illicit supernatural substance, destiny will intertwine the fates of five players:
A visionary princess determined to forge her own path.
An idealistic soldier whose heart is at odds with his duty.
A streetwise hunter tracking the most dangerous prey.
A charming thief with a powerful hidden identity.
A loyal servant on a quest to avenge his kingdom.
Their lives intersect with a stolen bottle of demon smoke. As war approaches, they must navigate a tangled web of political intrigue, shifting alliances, and forbidden love in order to uncover the dangerous truth about the strangely powerful smoke that intertwines their fates.
Ok serious- if some of these are even remotely a shock- you are either new to my site, in which case, WELCOME <WAVES FURIOUSLY> or you haven't been paying attention, in which case- WELCOME <WAVES FURIOUSLY>
Because I've been begging for these (some I actually have hope for and some I know are an exercise in futility. But hey, you have to have hope…
Kingdom For a Stage, the sequel to For a Muse of Fire by Heidi Heilig will be released on October 8th.My review of For A Muse of Fire did not thing short of nominate it for a Nobel Peace Prize (I read the ARC in ONE day). Ok, maybe I've gone a little overboard in my enthusiasm trying to review Kingdom For a Stage but respectfully, harmlessly and out of admiration for Ms. Heilig's incredible gifts.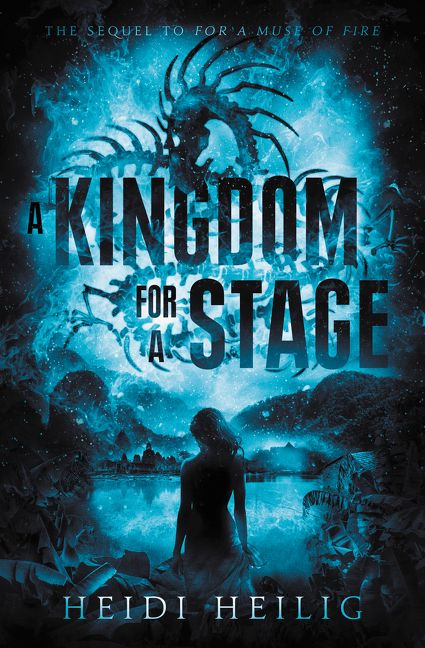 Again.. not spoiling. Here is the synopsis of For a Muse of Fire:
A young woman with a dangerous power she barely understands. A smuggler with secrets of his own. A country torn between a merciless colonial army, a terrifying tyrant, and a feared rebel leader. The first book in acclaimed author Heidi Heilig's Shadow Players trilogy blends traditional storytelling with ephemera for a lush, page-turning tale of escape and rebellion. 
For a Muse of Fire
 will captivate fans of Sabaa Tahir, Leigh Bardugo, and Renée Ahdieh.
Jetta's family is famed as the most talented troupe of shadow players in the land. With Jetta behind the scrim, their puppets seem to move without string or stick—a trade secret, they say. In truth, Jetta can see the souls of the recently departed and bind them to the puppets with her blood. But ever since the colonizing army conquered their country, the old ways are forbidden. Jetta must never show, never tell. Her skill and fame are her family's way to earn a spot aboard the royal ship to Aquitan, where shadow plays are the latest rage, and where rumor has it the Mad King has a spring that cures his ills. Because seeing spirits is not the only thing that plagues Jetta. But as rebellion seethes and as Jetta meets a young smuggler, she will face truths and decisions that she never imagined—and safety will never seem so far away.
Heidi Heilig creates a vivid, rich world inspired by Southeast Asian cultures and French colonialism. Told from Jetta's first-person point-of-view, as well as chapters written as play scripts and ephemera such as telegrams and letters, 
For a Muse of Fire
 is an engrossing journey that weaves magic, simmering romance, and the deep bonds of family with the high stakes of epic adventure.
See now here is where things become complicated. The next two have sequels I've read leading to sequels I want to read… see what happened there? 
But again… these are obvious… 
First up…
The sequel I read?- Thunderhead, the sequel to Scythe by Neal Shusterman 


The sequel I want to read… come on now… say it with me everyone…

Toll, the final book in the Scythe Trilogy which releases on November 5th
Here is my review of Toll and Queen of Nothing
Please. If everyone remembers? Just the cover reveal alone, broke me. I had to write a whole post about it (go check it out- watching me go…
is always amusing…. AND SPEAKING OF WHICH…
There is the ever talented, always ready to break our hearts Ms. Holly Black. 
The sequel I read?- Wicked King, Sequel to Cruel Prince 
This was, I believe the third ARC I receive (the first – I believe, from Edelweiss), which of course floored me and frightened me. It also continued to get almost daily views throughout this day. So a month or so ago I decided to go back and reread/revamp it and thank God I have a sense of humor because oh my. Not to say my reviews are the cats meow NOW… but I didn't even understand half of what I was saying then… I think I was just so caught up in the excitement and the
of it all that I just had no ability to form a coherent thought. If you want to take a stroll down memory lane…here is that throwback nostalgia post
Now of course, the sequel I want to read… and again say it with me people..
Queen of Nothing, the final book in the Folk of the Air Series, releases on Nov. 18
AND NOW WE GO INTO NEXT YEAR!!!! 🙂 
WHAT??? YOU WANT ME TO LEAVE THIS OUT?? NOOOOOOOOOO…. The sequel to last year's Slayer by Kiersten White is out January 7th, 2020
SPOILERS PEOPLE! Here is the Synopsis of Slayer 
Update- here is my review for Slayer and Chosen
From bestselling author Kiersten White comes a brand-new series set in the world of Buffy the Vampire Slayer that introduces a new Slayer as she grapples with the responsibility of managing her incredible powers that she's just beginning to understand.
Into every generation a Slayer is born…
Nina and her twin sister, Artemis, are far from normal. It's hard to be when you grow up at the Watcher's Academy, which is a bit different from your average boarding school. Here teens are trained as guides for Slayers—girls gifted with supernatural strength to fight the forces of darkness. But while Nina's mother is a prominent member of the Watcher's Council, Nina has never embraced the violent Watcher lifestyle. Instead she follows her instincts to heal, carving out a place for herself as the school medic.
Until the day Nina's life changes forever.
Thanks to Buffy, the famous (and infamous) Slayer that Nina's father died protecting, Nina is not only the newest Chosen One—she's the last Slayer, ever. Period.
As Nina hones her skills with her Watcher-in-training, Leo, there's plenty to keep her occupied: a monster fighting ring, a demon who eats happiness, a shadowy figure that keeps popping up in Nina's dreams…
But it's not until bodies start turning up that Nina's new powers will truly be tested—because someone she loves might be next.
One thing is clear: Being Chosen is easy. Making choices is hard.
Silvered Serpents (WHAT A TITLE), the Gilded Wolves sequel by Roshani Chokshi is on the way!!!! Ok…like eight months from now but STILL!! WE HAVE A DATE!! GET EXCITED! 

Silvered Serpents is out February 4th, 2020
Synopsis of Gilded Wolves:
From New York Times bestselling author Roshani Chokshi comes The Gilded Wolves, a novel set in Paris during a time of extraordinary change–one that is full of mystery, decadence, and dangerous desires…
No one believes in them. But soon no one will forget them.
It's 1889. The city is on the cusp of industry and power, and the Exposition Universelle has breathed new life into the streets and dredged up ancient secrets. Here, no one keeps tabs on dark truths better than treasure-hunter and wealthy hotelier Séverin Montagnet-Alarie. When the elite, ever-powerful Order of Babel coerces him to help them on a mission, Séverin is offered a treasure that he never imagined: his true inheritance.
To hunt down the ancient artifact the Order seeks, Séverin calls upon a band of unlikely experts: An engineer with a debt to pay. A historian banished from his home. A dancer with a sinister past. And a brother in arms if not blood.
Together, they will join Séverin as he explores the dark, glittering heart of Paris. What they find might change the course of history–but only if they can stay alive.
NEXT! We Unleash the Merciless Story Releases February 25, 2020. It is the sequel to the brilliant We Set the Dark on Fire by Tehlor Kay Mejia 
Synopsis for We Set the Dark on Fire…
In this daring and romantic fantasy debut perfect for fans of The Handmaid's Tale and Latinx authors Zoraida Córdova and Anna-Marie McLemore, society wife-in-training Dani has a great awakening after being recruited by rebel spies and falling for her biggest rival.
At the Medio School for Girls, distinguished young women are trained for one of two roles in their polarized society. Depending on her specialization, a graduate will one day run a husband's household or raise his children. Both paths promise a life of comfort and luxury, far from the frequent political uprisings of the lower class.
Daniela Vargas is the school's top student, but her pedigree is a lie. She must keep the truth hidden or be sent back to the fringes of society.
And school couldn't prepare her for the difficult choices she must make after graduation, especially when she is asked to spy for a resistance group desperately fighting to bring equality to Medio.
Will Dani cling to the privilege her parents fought to win for her, or will she give up everything she's strived for in pursuit of a free Medio—and a chance at a forbidden love?
And last BUT certainly not least
I believe Mirage by Somaiya Daude was my first approval on NetGalley… I hope that luck will pay off with the sequel Court of Lions.
Of course, I made a HUGE rookie mistake when I first reviewed it. I think it was my second. I didn't know it was a trilogy and well… of course I thought it left things all kinds of hanging! Once it was properly explained to me, I realized what a fantastical and dazzling book Mirage was and now? Well, we don't have a cover yet, but we have a title and a release date and I AM ALL IN!
Court of Lions (Sequel to Mirage) will release May, 5th 2020 (per Edelweiss)
Synopsis of Mirage:
In a world dominated by the brutal Vathek empire, eighteen-year-old Amani is a dreamer. She dreams of what life was like before the occupation; she dreams of writing poetry like the old-world poems she adores; she dreams of receiving a sign from Dihya that one day, she, too, will have adventure, and travel beyond her isolated home.
But when adventure comes for Amani, it is not what she expects: she is kidnapped by the regime and taken in secret to the royal palace, where she discovers that she is nearly identical to the cruel half-Vathek Princess Maram. The princess is so hated by her conquered people that she requires a body double, someone to appear in public as Maram, ready to die in her place.
As Amani is forced into her new role, she can't help but enjoy the palace's beauty—and her time with the princess' fiancé, Idris. But the glitter of the royal court belies a world of violence and fear. If Amani ever wishes to see her family again, she must play the princess to perfection…because one wrong move could lead to her death.
OK that was 9— 11 if you include Wicked King and Thunderhead… I did the best I could.