Memorial Day is just around the corner and you know what that means! Time to kick off the shoes, destress and lay by whatever your favorite body of water might be! Barbecue away and grab your favorite ice cold beverage of choice (keep it clean kids)! Some of you might even see me around- your favorite neighborhood lifeguard! Of course you know the boys are already anticipating the summertime. Not that much changes for them… eat.. sleep… rinse… repeat. Gomez reads, of course. Although, he's still pretty ornery that he can't read Nic Stone's Jackpot till at least September. So I might have to bribe him to keep his good reading habits up. 
Please note the following:
Like the Spring Has Sprung Post the books will run in date order and  is not all inclusive. I couldn't include EVERYTHING, plus I don't know which TBR books I will read until I choose them. That is the fun of TBRs, after all! This list is subject to change based on the ARCs not listed, my TBR whims, any changes in publication dates, newly requested/approved ARCs… special features, and of course whether Liam allows Gomez and Pavel to perform in the heat.
As always, book blurbs are from the publisher, author, Edelweiss or NetGalley.
Genre:Action and Adv./Sci-Fi (YA) Release Date: June 4th 
Q and A with Taran Matharu Posted 5/28
Synopsis: An epic survival adventure and new YA trilogy from bestselling author Taran Matharu. Throughout history, people have vanished with no explanation. A group of teenagers are about to discover why.
Cade is settling into a new boarding school, contemplating his future, when he finds himself transported to another realm. He soon discovers their new world is populated with lost remnants from the past: prehistoric creatures, ancient relics, and stranger still — people. Overwhelmed by his new surroundings, Cade has little time to adjust, for soon he and his fellow classmates are forced to become contenders in a brutal game, controlled by mysterious overlords. But who are these beings and why did they choose these teens? Cade must prepare for battle . . . because hiding is not an option.
2) The Space Between Time by Charlie Laidlaw

(Blog Tour Organized by and Synopsis by R&R BookTours)
Genre: Contemporary Fiction/ Dark Comedy (Adult)
Pub Date: 6/20/19- My Review Posted June 10th
Synopsis: The Space Between Time is a dark comedy about love and loss.  It's also about memory and how a childhood remembered can years later falsely distort what we feel about those closest to us.
Emma Maria Rossini appears to be the luckiest girl in the world.  She's the daughter of a beautiful and loving mother and her father is one of the most famous film actors of his generation.  Tom Cruise is almost an adopted uncle. She's also the granddaughter of a rather eccentric and obscure Italian astrophysicist whose theories on the universe have been much ridiculed.
The story centres on Emma's childhood in Edinburgh and East Lothian, and the overpowering event of her mother's death, apparently in a freak lighting strike. However, the secret that only Emma knows is that her mother's death was no accident.  It precipitates a suicide attempt, and estrangement from her father.
Emma stumbles through university and finds work as a journalist in Edinburgh, although she is once more becoming mentally unstable and, following the death of her father, again tries to commit suicide. It's while she's in a mental institution that her psychiatrist suggests she writes a memoir of her life, to help her make sense of everything that's happened to her, and The Space Between Time is the story she writes.
The tragic-comic story, aimed at both male and female readers, has heart, humour and warmth.  Its central message is that, even at the worst of times, a second chance can often be just around the corner. In coming to terms with her life and the deaths of her parents, Emma finds ultimate solace in her once-derided grandfather's Theorem on the universe – which offers the metaphor that we are all connected, even to those we have loved and not quite lost.
Genre: Mystery/Thriller (Adult)  Release Date: 6/25
Exclusive Autographed Advance Reader Copy Give Away and Interview with Kimberly Belle: 6/11 Review: 6/18
Synopsis: Beth Murphy is on the run…
For nearly a year, Beth has been planning for this day. A day some people might call any other Wednesday, but Beth prefers to see it as her new beginning—one with a new look, new name and new city. Beth has given her plan significant thought, because one small slip and her violent husband will find her.
Sabine Hardison is missing…
A couple hundred miles away, Jeffrey returns home from a work trip to find his wife, Sabine, is missing. Wherever she is, she's taken almost nothing with her. Her abandoned car is the only evidence the police have, and all signs point to foul play.
As the police search for leads, the case becomes more and more convoluted. Sabine's carefully laid plans for her future indicate trouble at home, and a husband who would be better off with her gone. The detective on the case will stop at nothing to find out what happened and bring this missing woman home. Where is Sabine? And who is Beth? The only thing that's certain is that someone is lying and the truth won't stay buried for long.

Genre: Sword/ Sorcery/Fantasy (Adult) Release: 7/6
19th Bladesman Review 6/21 Special Author Q&A 6/28        The Last Seer King Review Posted 7/19 
Synopsis of 19th Bladesman (Because. No Spoilers.)
His duty is to die young, but fate has something far more lethal in mind.
If Kaell breaks, the kingdom breaks with him. And prophecy says the 19th Bladesman will break…
The Bonded Warrior…
Kill. Die young. That's what a swordsman bonded to the ancient gods does. Without expecting praise from the man who trained him to survive this centuries-old, malignant war against the inhuman followers of an invincible lord. But Kaell wants more. More of Val Arques' attention, his approval. Just more.
The fire dancer…

Ice lord, spy, Heath never loses a fire dance. Yet he longs to know that thrill of danger down his spine as he kills for his god, to fight a warrior who might, just might be better than him.

The broken…
Val Arques is a bladesman of formidable power entrusted not only with Kaell's life but with the truth that will destroy him. Banished to a grim outpost of this doomed kingdom of sorcery, poetry, and treachery, he cannot afford to care about the young warrior. For love means loss. And Val Arques has a shameful secret…

A kingdom on the edge of chaos…
As a vengeful god escapes his ancient prison and Kaell is drawn into his web of deception, even Val Arques can't protect him from the dark prophecy awaiting him. Because you can't flee fate unless you're willing to do the unthinkable.
Although this isn't an ARC, I'm thrilled to be apart of this massive blog tour, which is being hosted by The Write Reads. It features the Emaneska Series by Ben Galley and starts in June. My review of the Written runs July 1st.
Genre: Myth and Legend Fantasy / Available: Kindle 
Synopsis: His name is Farden. They whisper that he's dangerous. Dangerous is only the half of it. 
A spellbook has gone missing from the libraries of Arfell – a very old and extremely powerful spell book from the time of dark elves and demons. Five scholars are dead, the magick council is running out of time and options, and the Arka is once again on the brink of war with the Siren dragon-riders.
It falls to Farden the Written mage to keep the world from falling into chaos. Entangled in a web of lies and politics, Farden must recover the spellbook before an ancient enemy rises, even if it takes journeying halfway across icy Emaneska and back.
In his fight for answers, Farden will unearth a secret that not only shakes the foundations of his world, but threatens the entire future of Emaneska. Sorcery, death, drugs and the deepest of betrayals await.
Welcome to Emaneska.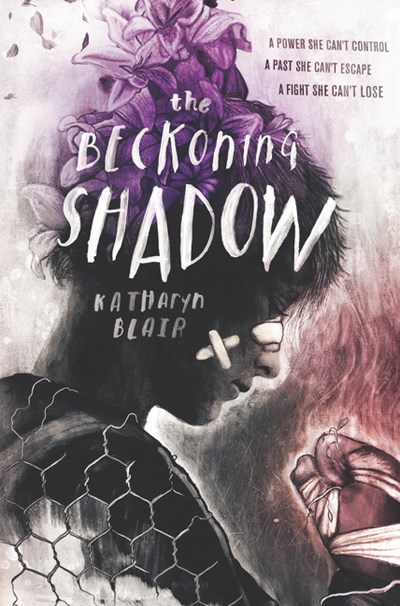 Genre Fantasy (Young Adult) Release Date: 7/2
 Author Q and A 6/18, Review 6/24
Synopsis: The Magicians meets Fight Club 
This heart-stopping contemporary fantasy stand-alone about a teen girl with special powers who seeks redemption through a dangerous tournament that guarantees the winner a chance to undo the past. 
Vesper Montgomery can summon your worst fear and turn it into a reality—but she's learned the hard way that it's an addicting and dangerous power. One wrong move and you could hurt someone you love.
But when she earns a spot in the Tournament of the Unraveling, where competitors battle it out for a chance to rewrite the past, Vesper finally has a shot to reverse the mistakes that have changed her forever. She turns to Sam Hardy, a former MMA fighter who's also carrying a tragedy he desperately wants to undo. However, helping heal Sam's heart will mean breaking her own, and the competition forces her to master her powers—powers she has been terrified of since they destroyed her life.
Let's be honest right now. They had us at "The Magicians meet Fight Club", yeah? Except there is no Fight Club.
 Genre: Epic Fantasy (Young Adult)  Release Date: 7/9
Author Q and A and Giveaway posted 6/6
Synopsis: Eragon meets And I Darken in this thrilling new fantasy debut that follows a fallen princess as she ignites a rebellion to bring back the magical elemental crows that were taken from her people.
In the tropical kingdom of Rhodaire, magical, elemental Crows are part of every aspect of life…until the Illucian empire invades, destroying everything.
That terrible night has thrown Princess Anthia into a deep depression. Her sister Caliza is busy running the kingdom after their mother's death, but all Thia can do is think of all she has lost.
But when Caliza is forced to agree to a marriage between Thia and the crown prince of Illucia, Thia is finally spurred into action. And after stumbling upon a hidden Crow egg in the rubble of a rookery, she and her sister devise a dangerous plan to hatch the egg in secret and get back what was taken from them.
Genre Sci-Fi (Young Adult)  Release Date: 7/9
Author Q and A: 6/25 Review: 7/2
Synopsis: It's been eighteen months since the Raxter School for Girls was put under quarantine. Since the Tox hit and pulled Hetty's life out from under her.

It started slow. First the teachers died one by one. Then it began to infect the students, turning their bodies strange and foreign. Now, cut off from the rest of the world and left to fend for themselves on their island home, the girls don't dare wander outside the school's fence, where the Tox has made the woods wild and dangerous. They wait for the cure they were promised as the Tox seeps into everything.

But when Byatt goes missing, Hetty will do anything to find her, even if it means breaking quarantine and braving the horrors that lie beyond the fence. And when she does, Hetty learns that there's more to their story, to their life at Raxter, than she could have ever thought true.
Genre: Fantasy (Young Adult) Release Date: 7/9 
Author Q and A: 6/20 Review: 6/27
Synopsis: Maia Tamarin dreams of becoming the greatest tailor in the land, but as a girl, the best she can hope for is to marry well. 
When a royal messenger summons her ailing father, once a tailor of renown, to court, Maia poses as a boy and takes his place. She knows her life is forfeit if her secret is discovered, but she'll take that risk to achieve her dream and save her family from ruin. There's just one catch: Maia is one of twelve tailors vying for the job.
Backstabbing and lies run rampant as the tailors compete in challenges to prove their artistry and skill. Maia's task is further complicated when she draws the attention of the court magician, Edan, whose piercing eyes seem to see straight through her disguise.
And nothing could have prepared her for the final challenge: to sew three magic gowns for the emperor's reluctant bride-to-be, from the laughter of the sun, the tears of the moon, and the blood of stars. With this impossible task before her, she embarks on a journey to the far reaches of the kingdom, seeking the sun, the moon, and the stars, and finding more than she ever could have imagined.
Genre: Psychological Horror (Adult) Release Date: 7/9 
"This nightmarish story is incredibly propulsive and original. You won't shake it for a long time. Nightmarish, propulsive and original."―Stephen King
Can I just drop mic and exit stage left on this quote? I can not believe I got the ARC of this book but I did, and it is going to take every ounce of patience not to tear through it, like, tonight. Except, instead, I fear, it is The Chain that will tear through me, in ways not felt since The Girl With All the Gifts.
Now. For those that haven't heard of The Chain? Take a breath.
Synopsis:
VICTIM.
SURVIVOR.
ABDUCTOR.
CRIMINAL.
YOU WILL BECOME EACH ONE.
YOUR PHONE RINGS.

A STRANGER HAS KIDNAPPED YOUR CHILD.

TO FREE THEM YOU MUST ABDUCT SOMEONE ELSE'S CHILD.

YOUR CHILD WILL BE RELEASED WHEN YOUR VICTIM'S PARENTS KIDNAP ANOTHER CHILD.

IF ANY OF THESE THINGS DON'T HAPPEN:
YOUR CHILD WILL BE KILLED.
YOU ARE NOW PART OF THE CHAIN
"YOU ARE NOT THE FIRST.
AND YOU WILL CERTAINLY NOT BE THE LAST."
Genre: Fantasy  (Adult)    Release Date: 7/23
C.S.E Interview Posted 7/8 Review Posted: 7/15
Synopsis: In Desdemona and the Deep, the spoiled daughter of a rich mining family must retrieve the tithe of men her father promised to the world below.
On the surface, her world is rife with industrial pollution that ruins the health of poor factory workers while the idle rich indulge themselves in unheard-of luxury.
Below are goblins, mysterious kingdoms, and an entirely different hierarchy.
12) The Merciful Crow by Margaret Owen via Henry Holt & Co. and Edelweiss
Genre: Fantasy, Wizards/Witches (YA) Releases: 7/30     Blog Tour: 7/28-8/3 Author Q&A 7/22 Review: 7/29
Synopsis: One way or another,we always feed the crows.
A future chieftain: Fie abides by one rule: look after your own. Her Crow caste of undertakers and mercy-killers takes more abuse than coin, but when they're called to collect royal dead, she's hoping they'll find the payout of a lifetime.
A fugitive prince: When Crown Prince Jasimir turns out to have faked his death, Fie's ready to cut her losses―and perhaps his throat. But he offers a wager that she can't refuse: protect him from a ruthless queen, and he'll protect the Crows when he reigns.
A too-cunning bodyguard: Hawk warrior Tavin has always put Jas's life before his, magically assuming the prince's appearance and shadowing his every step. But what happens when Tavin begins to want something to call his own?
Genre: Sci-Fi (YA)  Release Date: August 6
Sanctuary (Book 1) Summary/Review Posted 7/9  Caryn Lix Q and A with ARC Containment GIVEAWAY: 7/16 Containment (Sanctuary Book 2): Review  7/23
Sanctuary Synopsis: Kenzie holds one truth above all: the company is everything.
Alien meets Alexandra Bracken's The Dar kest Minds in this thrilling debut novel about prison-guard-in-training, Kenzie, who is taken hostage by the superpowered criminal teens of the Sanctuary space station—only to have to band together with them when the station is attacked by mysterious creatures.

As a citizen of Omnistellar Concepts, the most powerful corporation in the solar system, Kenzie has trained her entire life for one goal: to become an elite guard on Sanctuary, Omnistellar's space prison for superpowered teens too dangerous for Earth. As a junior guard, she's excited to prove herself to her company—and that means sacrificing anything that won't propel her forward.

But then a routine drill goes sideways and Kenzie is taken hostage by rioting prisoners.

As Kenzie forms her own plan to escape, she doesn't realize there's a more sinister threat looming, something ancient and evil that has clawed its way into Sanctuary from the vacuum of space. And Kenzie might have to team up with her captors to survive—all while beginning to suspect there's a darker side to the Omnistellar she knows.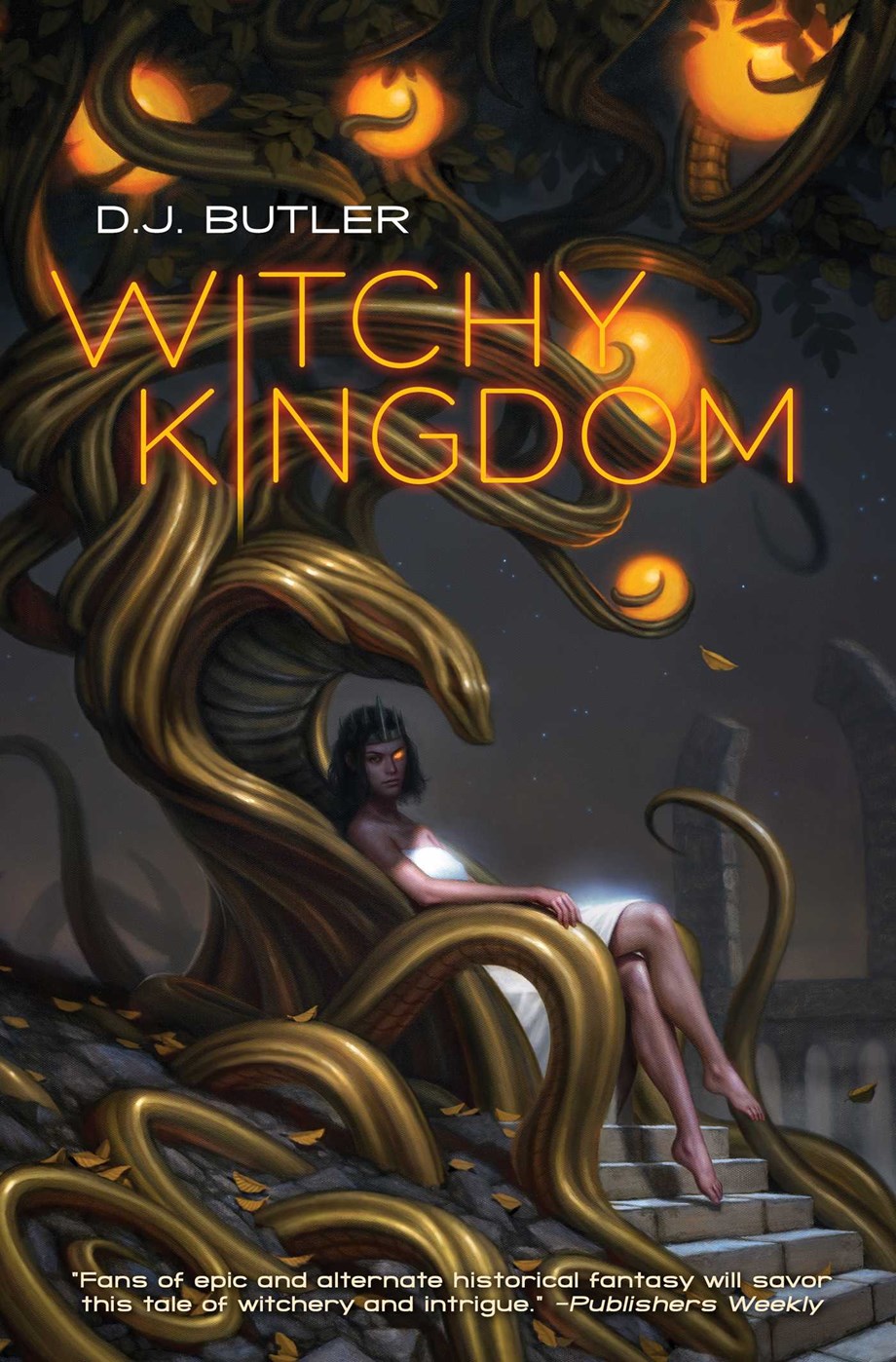 Genre:Fantasy/Historical (YA/Adult) Release: 8/6
Summary/Review: Book 1 Witchy Eye: Female protagonist we need
Review and Final Book In The Witchy Eye Series: Witchy Kingdom 8/15 (Giveaway Details TBA)
Witchy Eye (Witchy Eye Book 1) Synopsis:

Sarah Calhoun is the fifteen-year-old daughter of the Elector Andrew Calhoun, one of Apalachee's military heroes and one of the electors who gets to decide who will next ascend as the Emperor of the New World. None of that matters to Sarah. She has a natural talent for hexing and one bad eye, and all she wants is to be left alone—especially by outsiders.

But Sarah's world gets turned on its head at the Nashville Tobacco Fair when a Yankee wizard-priest tries to kidnap her. Sarah fights back with the aid of a mysterious monk named Thalanes, who is one of the not-quite-human Firstborn, the Moundbuilders of the Ohio. It is Thalanes who reveals to Sarah a secret heritage she never dreamed could be hers.

Now on a desperate quest with Thalanes to claim this heritage, she is hunted by the Emperor's bodyguard of elite dragoons, as well as by darker things—shapeshifting Mockers and undead Lazars, and behind them a power more sinister still. If Sarah cannot claim her heritage, it may mean the end to her, her family—and to the world where she is just beginning to find her place.
15) The Gossamer Mage by Julie E. Czerneda via Berkley Publishing Group/DAW (RandomHouse)
Genre: Sci-Fi/ Fantasy (Young Adult)  Release Date: 8/6       Blog Tour 7/26- 8/9 Author Q&A and Giveaway    Gossamer Mage Review
Synopsis: From an Aurora Award-winning author comes a new fantasy epic in which one mage must stand against a Deathless Goddess who controls all magic.

Only in Tananen do people worship a single deity: the Deathless Goddess. Only in this small, forbidden realm are there those haunted by words of no language known to woman or man. The words are Her Gift, and they summon magic.

Mage scribes learn to write Her words as intentions: spells to make beasts or plants, designed to any purpose. If an intention is flawed, what the mage creates is a gossamer: a magical creature as wild and free as it is costly for the mage.

For Her Gift comes at a steep price. Each successful intention ages a mage until they dare no more. But her magic demands to be used; the Deathless Goddess will take her fee, and mages will die.

To end this terrible toll, the greatest mage in Tananen vows to find and destroy Her. He has yet to learn She is all that protects Tananen from what waits outside. And all that keeps magic alive.
Smoke Thieves (Book 1): Released 5/18 Blog Tour Dates: 7/29 – 8/2              Ge nre: YA Spy and Epic Fantasy            My review with Playlist: 8/2 __________________________________________Demon World Releases August 6th    Blog Tour Dates: 8/5-8/9                  Genre: Young Adult Epic Fantasy          Smoke Thieves Review                      Demon World Review      
Synopsis of The Smoke Thieves Only (To Avoid Spoilers):
Genre: Historical, Paranormal,Urban Fantasy (Adult Novel)   Release Date: 7/30  Blog Tour Starts 7/30 
*below updated to include interview/giveaway*
Author Andrew Caldecott Q & A with Giveaway:  Finalized Hard Copy ARC: Posted 7/18, /Review
Disclaimer: When I was asked to join the blog tour for Rotherweird, I missed M.R. Carey's endorsement that tit 'Baroque, Byzantine and beautiful' I mention this because we all know how I feel about M.R. Carey.
I didn't know until I received the book in the mail- so it had no influence in my agreement to join the tour. Of course once I saw it on the cover of the book, I jumped up and down, and squealed in the lobby of my apartment building like an idiot.
Synopsis: In 1558 twelve children, gifted far beyond their years, are banished by their Tudor queen to the town of Rotherweird. Some say they are the Golden Generation; some say the devil's spawn. But everyone knows they are to be revered–and feared.
Four and a half centuries later, cast adrift from the rest of England by Elizabeth I and still bound by its ancient laws, Rotherweird's independence is subject to one disturbing condition: no one, but no one studies the town or its history.
Then an Outsider arrives, a man of unparalleled wealth and power, enough to buy the whole of Rotherweird–deeply buried secrets and all…
Genre: Fiction (General/Adult) Release Date: 8/6
Synopsis: From the author of A Place at the Table and A Soft Place to Land, a gripping, multigenerational story inspired by true events that follows two best friends through their political awakenings in the turbulent 1960s—and the repercussions of their actions after their daughters encounter the secrets they thought they had buried long ago.
Eve Whalen, privileged child of an old-money Atlanta family, meets Daniella Gold in the fall of 1962, on their first day at Belmont College. Paired as roommates, the two become fast friends. Daniella, raised in Georgetown by a Jewish father and a Methodist mother, has always felt caught between two worlds. But at Belmont, her bond with Eve allows her to finally experience a sense of belonging. That is, until the girls' expanding awareness of the South's caste system forces them to question everything they thought about the world and their places in it.
Eve veers toward radicalism—a choice pragmatic Daniella cannot fathom. After a tragedy, Eve returns to Daniella for help in beginning anew, hoping to shed her past. But the past isn't so easily buried, as Daniella and Eve discover when their daughters are caught up in secrets meant to stay hidden.
Spanning just over thirty years of American history, from the twilight of Kennedy's Camelot to the beginning of Bill Clinton's presidency, We Are All Good People Here perfectly resonates with today's fraught American political zeitgeist and asks us: why do good intentions too often lead to tragic outcomes? Can we separate our political choices and our personal morals? And is it possib le to truly bury our former selves and escape our own history?
Genre:Mystery/ Thriller (Adult) Release Date: 8/6  
After initially being denied an ARC of said book, I was granted the ARC at about 9 AM, Saturday. Thank you.
Synopsis: When she stumbles across the ad, she's looking for something else completely. But it seems too good an opportunity to miss—a live-in nannying post, with a staggeringly generous salary. And when Rowan Caine arrives at Heatherbrae House, she is smitten by the luxurious "smart" home fitted with all modern conveniences, by the beautiful Scottish Highlands, and this picture-perfect family.

What she doesn't know is that she's stepping into a nightmare—one that will end with a child dead and herself in prison awaiting trial for murder.

Writing to her lawyer from prison, she struggles to explain the unravelling events that led to her incarceration. It wasn't just the constant surveillance from the cameras installed around the house, or the malfunctioning technology that woke the household with booming music, or turned the lights off at the worst possible time. It wasn't just the girls, who turned out to be a far cry from the immaculately behaved model children she met at her interview. It wasn't even the way she was left alone for weeks at a time, with no adults around apart from the enigmatic handyman, Jack Grant.

It was everything.

She knows she's made mistakes. She admits that she lied to obtain the post, and that her behavior toward the children wasn't always ideal. She's not innocent, by any means. But, she maintains, she's not guilty—at least not of murder. Which means someone else is.
Although a fall release, the blog tour begins August 10th. So ,I'm including it in the Summer Fling! 
Genre: YA Horror/Short Stories/Classic Lit Out: 9/10      Blog Tour Begins 8/10   My Interview (Interviewee TBA) 8/12
I will also post a review outside of the tour – Date TBA 
Synopsis: The Cask of Amontillado. The Tell-Tale Heart. The Pit and the Pendulum. Filled with love and loss, vengeance and regret, the dark, chilling stories of Edgar Allen Poe have haunted us for over 150 years. Now, thirteen of YAs most celebrated writers reimagine Poe's stories for a new generation.

These contemporary retellings will grab readers by the throat and drag them along to surprising and unsettling places, whether they are Poe aficionados or new newcomers to these classics. Tiffany D. Jackson, award-winning author of Monday's Not Coming, transports "The Cask of Amontillado" to the streets of Brooklyn during the present day West Indian Day Carnival in Brooklyn. Poet Amanda Lovelace finds new meaning in the classic poem "The Raven" by blotting out words from the original lines. And Kendare Blake, New York Times bestselling author of the Three Dark Crowns series, gives the unreliable voice narrating "Metzengerstein" a contemporary edge.

With the original stories printed in the back of the book, HIS HIDEOUS HEART offers up a fun way to meet Poe for the first time, or for readers to revisit old favorites with fresh eyes. His work reminds us why we love to be scared, whether we get that thrill from watching the Chilling Adventures of Sabrina, visiting a haunted house at Halloween, or by reading Poe's spine-tingling stories.
Genre: Dark Fantasy/Historical Fantasy Romance (YA)
Pre-Order Link
Release Date: 10/29    
Synopsis: The start of a fierce fantasy duology about three maidens who are chosen for their land's greatest honor…and one girl determined to save her sister from the grave. 

In the walled city-state of Alu, Kammani wants nothing more than to become the accomplished healer her father used to be before her family was cast out of their privileged life in shame. 

When Alu's ruler falls deathly ill, Kammani's beautiful little sister, Nanaea, is chosen as one of three sacred maidens to join him in the afterlife. It's an honor. A tradition. And Nanaea believes it is her chance to live an even grander life than the one that was stolen from her. 

But Kammani sees the selection for what it really is—a death sentence.

Desperate to save her sister, Kammani schemes her way into the palace to heal the ruler. There she discovers more danger lurking in the sand-stone corridors than she could have ever imagined and that her own life—and heart—are at stake. But Kammani will stop at nothing to dig up the palace's buried secrets even if it means sacrificing everything…including herself.
Pre-Order and Giveaway Link Coming Monday, August 5th (Ends 11/11)
*Not a summer Release but launching Pre-Order Campaign Launch/Giveaway August 5th (Ends November 11th)*
Genre: Young Adult Epic Fantasy
Release Date: 11/12
Pre-Order Campaign and Giveaway Launch Link
Synopsis:
In this mesmerizing YA fantasy mash-up of The Road meets The Amazing Race, one girl chooses to risk her life in a cutthroat competition in order to win her freedom.     
In Lanoria, Outsiders, who don't have magic, are inferior to Enchanteds, who do. That's just a fact for Astrid, an Outsider who is indentured to pay off her family's debts. She serves as the surrogate for the princess—if Renya steps out of line, Astrid is the one who bears the punishment for it.
But there is a way out: the life-or-death Race of Oblivion. First, racers are dosed with the drug Oblivion, which wipes their memories. Then, when they awake in the middle of nowhere, only cryptic clues—and a sheer will to live—will lead them through treacherous terrain full of opponents who wouldn't think twice about killing each other to get ahead.
But what throws Astrid the most is what she never expected to encounter in this race. A familiar face she can't place. Secret powers she shouldn't have. And a confusing memory of the past that, if real, could mean the undoing of the entire social structure that has kept her a slave her entire life.
Competing could mean death…but it could also mean freedom.