For this episode of Stacking the Shelves I decided to bring the eARCs I have been generously gifted with over the past two weeks! In order of publication dates (anticipated in the later fall).
Also, before everyone thinks I've lost my ARCING mind… you'll notice that more than half of these are slated for late August-November.
Descriptions Provided by Edelweiss and/or NetGalley (a couple from Amazon for formatting reasons)

Genre: Action and Adventure/Sci-Fi (YA) Release Date: 6/4/2019
Synopsis: An epic survival adventure and new YA trilogy from bestselling author Taran Matharu. Throughout history, people have vanished with no explanation. A group of teenagers are about to discover why.
Cade is settling into a new boarding school, contemplating his future, when he finds himself transported to another realm. He soon discovers their new world is populated with lost remnants from the past: prehistoric creatures, ancient relics, and stranger still — people. Overwhelmed by his new surroundings, Cade has little time to adjust, for soon he and his fellow classmates are forced to become contenders in a brutal game, controlled by mysterious overlords. But who are these beings and why did they choose these teens? Cade must prepare for battle . . . because hiding is not an option.
The Space Between Time by Charlie Laidlaw (Blog Tour Organized by and Synopsis by R&R BookTours- Bloggers Still Needed- Click Link)

Genre: Contemporary Fiction/ Dark Comedy (Adult)
Pub Date: 6/20/19 (Blog Tour: June-July- my post: June 10th)
The Space Between Time is a dark comedy about love and loss.  It's also about memory and how a childhood remembered can years later falsely distort what we feel about those closest to us.
Emma Maria Rossini appears to be the luckiest girl in the world.  She's the daughter of a beautiful and loving mother and her father is one of the most famous film actors of his generation.  Tom Cruise is almost an adopted uncle. She's also the granddaughter of a rather eccentric and obscure Italian astrophysicist whose theories on the universe have been much ridiculed.
The story centres on Emma's childhood in Edinburgh and East Lothian, and the overpowering event of her mother's death, apparently in a freak lighting strike. However, the secret that only Emma knows is that her mother's death was no accident.  It precipitates a suicide attempt, and estrangement from her father.
Emma stumbles through university and finds work as a journalist in Edinburgh, although she is once more becoming mentally unstable and, following the death of her father, again tries to commit suicide. It's while she's in a mental institution that her psychiatrist suggests she writes a memoir of her life, to help her make sense of everything that's happened to her, and The Space Between Time is the story she writes.
The tragic-comic story, aimed at both male and female readers, has heart, humour and warmth.  Its central message is that, even at the worst of times, a second chance can often be just around the corner. In coming to terms with her life and the deaths of her parents, Emma finds ultimate solace in her once-derided grandfather's Theorem on the universe – which offers the metaphor that we are all connected, even to those we have loved and not quite lost.

Genre: Mystery/Thriller (Adult) Release Date: 6/25
Synopsis: Beth Murphy is on the run…
For nearly a year, Beth has been planning for this day. A day some people might call any other Wednesday, but Beth prefers to see it as her new beginning—one with a new look, new name and new city. Beth has given her plan significant thought, because one small slip and her violent husband will find her.
Sabine Hardison is missing…
A couple hundred miles away, Jeffrey returns home from a work trip to find his wife, Sabine, is missing. Wherever she is, she's taken almost nothing with her. Her abandoned car is the only evidence the police have, and all signs point to foul play.
As the police search for leads, the case becomes more and more convoluted. Sabine's carefully laid plans for her future indicate trouble at home, and a husband who would be better off with her gone. The detective on the case will stop at nothing to find out what happened and bring this missing woman home. Where is Sabine? And who is Beth? The only thing that's certain is that someone is lying and the truth won't stay buried for long.

Genre: Sword&Sorcery/Action&Action Fantasy Release: 6/19
The secrets we hide from ourselves give others power. 
For centuries Roaran sought redemption. Now he can vanquish a tyrant and save a kingdom in chaos. But only if he cuts his last ties to humanity. Only if he returns to the one place, he swore he'd never dare go again – the Icelands, where a sorceress waits to enslave him.
A leader arises.
Slaver, raider, war lord. Dannon wants to believe in something beyond killing. His yearning will take him on a deadly path to the truth; that he's fated to put aside everything he ever believed to lead the seer king's sword brotherhood against his former god and lord, Archanin.
Outwitted in a vicious game
A prisoner in the Icelands and about to be auctioned to the highest bidder, Val Arques has just one chance to escape: Play out his captor's dangerous sexual and psychological game. But in the end, it's his darkest secret, his hidden shame that gives a clever and calculating sorceress power over him.
While not technically an ARC, I'm thrilled to be apart of this massive blog tour by The Write Reads! It starts in June and features the Emaneska Series by Ben Galley.

Genre: Myth and Legend Fantasy / Already Released on Kindle- My Review will post July 1st
Synopsis: His name is Farden. They whisper that he's dangerous. Dangerous is only the half of it. 
A spellbook has gone missing from the libraries of Arfell – a very old and extremely powerful spellbook from the time of dark elves and demons. Five scholars are dead, the magick council is running out of time and options, and the Arka is once again on the brink of war with the Siren dragon-riders.
It falls to Farden the Written mage to keep the world from falling into chaos. Entangled in a web of lies and politics, Farden must recover the spellbook before an ancient enemy rises, even if it takes journeying halfway across icy Emaneska and back.
In his fight for answers, Farden will unearth a secret that not only shakes the foundations of his world, but threatens the entire future of Emaneska. Sorcery, death, drugs and the deepest of betrayals await.
Welcome to Emaneska.
The Merciful Crow by Margaret Owen from Henry Holt & Co.

Genre: Fantasy/Wizards/Witches Anticipated Release: 7/30
Synopsis: One way or another, we always feed the crows.
A future chieftain: Fie abides by one rule: look after your own. Her Crow caste of undertakers and mercy-killers takes more abuse than coin, but when they're called to collect royal dead, she's hoping they'll find the payout of a lifetime.
A fugitive prince: When Crown Prince Jasimir turns out to have faked his death, Fie's ready to cut her losses―and perhaps his throat. But he offers a wager that she can't refuse: protect him from a ruthless queen, and he'll protect the Crows when he reigns.
A too-cunning bodyguard: Hawk warrior Tavin has always put Jas's life before his, magically assuming the prince's appearance and shadowing his every step. But what happens when Tavin begins to want something to call his own?

Genre: Fiction (General/Adult) Release Date: 8/6
Synopsis: From the author of A Place at the Table and A Soft Place to Land, a gripping, multigenerational story inspired by true events that follows two best friends through their political awakenings in the turbulent 1960s—and the repercussions of their actions after their daughters encounter the secrets they thought they had buried long ago.
Eve Whalen, privileged child of an old-money Atlanta family, meets Daniella Gold in the fall of 1962, on their first day at Belmont College. Paired as roommates, the two become fast friends. Daniella, raised in Georgetown by a Jewish father and a Methodist mother, has always felt caught between two worlds. But at Belmont, her bond with Eve allows her to finally experience a sense of belonging. That is, until the girls' expanding awareness of the South's caste system forces them to question everything they thought they knew about the world and their places in it.
Eve veers toward radicalism—a choice pragmatic Daniella cannot fathom. After a tragedy, Eve returns to Daniella for help in beginning anew, hoping to shed her past. But the past isn't so easily buried, as Daniella and Eve discover when their daughters are caught up in secrets meant to stay hidden.
Spanning just over thirty years of American history, from the twilight of Kennedy's Camelot to the beginning of Bill Clinton's presidency, We Are All Good People Here perfectly resonates with today's fraught American political zeitgeist and asks us: why do good intentions too often lead to tragic outcomes? Can we separate our political choices and our personal morals? And is it possible to truly bury our former selves and escape our own history?

Genre: Science Fiction Release Date: August 6
Synopsis: They may have escaped Sanctuary, but Kenzie and her friends are far from safe. 
Ex-Omnistellar prison guard Kenzie and her superpowered friends barely made it off Sanctuary alive. Now they're stuck in a stolen alien ship with nowhere to go and no one to help them. Kenzie is desperate for a plan, but she doesn't know who to trust anymore. Everyone has their own dark secrets: Omnistellar, her parents, even Cage. Worse still, she's haunted by memories of the aliens who nearly tore her to shreds—and forced her to accidentally kill one of the Sanctuary prisoners, Matt.
When Kenzie intercepts a radio communication suggesting that more aliens are on their way, she knows there's only one choice: They must destroy the ship before the aliens follow the signal straight to them. Because if the monstrous creatures who attacked Sanctuary reach Earth, then it's game over for humanity.
What Kenzie doesn't know is that the aliens aren't the only ones on the hunt. Omnistellar has put a bounty on Kenzie's head—and the question is whether the aliens or Omnistellar get to her first.

Genre: Mystery and Thrillers (Adult) Release Date: 9/3
Synopsis: In North Devon, where two rivers converge and run into the sea, Detective Matthew Venn stands outside the church as his father's funeral takes place. Once loved and cherished, the day Matthew left the strict evangelical community he grew up in, he lost his family too.
Now, as he turns and walks away again, he receives a call from one of his team. A body has been found on the beach nearby: a man with a tattoo of an albatross on his neck, stabbed to death. The case calls Matthew back into the community he thought he had left behind, as deadly secrets hidden at its heart are revealed, and his past and present collide.

Genre: Fantasy/Epic (Young Adult) Anticipated Release: 9/3
Synopsis: Six of Crows meets Graceling with a dash of Winter is Coming in this show stopping debut YA fantasy!
For over two thousand years, the Seven Prophets guided humanity. Using their visions of the future, they ended wars and united nations—until the day, one hundred years ago, when the Prophets disappeared. All they left behind is one final, secret prophecy, foretelling an Age of Darkness and the birth of a new Prophet who could be the world's salvation . . . or the cause of its destruction.
As chaos takes hold, five lives are set on a collision course: a prince exiled from his kingdom; a ruthless killer known as the Pale Hand; a once-faithful leader torn between his duty and his heart; a reckless gambler with the power to find anything or anyone; and a dying girl on the verge of giving up. One of them—or all of them—could break the world. Will they be savior or destroyer?
UNpregnant by Jeni Hendriks and Ted Caplan from HarperTeen
Genre: Fiction/Social Themes/Social Themes (YA)
Anticipated Release: 9/10
Synopsis: Thelma and Louise meets John Hughes in this fresh, social justice themed YA debut about a girl who must drive over nine hundred miles with her ex-best friend to obtain a legal abortion.
Seventeen-year-old Veronica Clarke never thought she'd want to fail a test—that is, until she finds herself holding a thick piece of plastic and staring at two solid pink lines. How her boyfriend managed to get her pregnant, even with the most consistent use of condoms, is a mystery—but with a promising college-bound future now disappearing before her eyes, Veronica considers a decision she never imagined she'd have to make: an abortion.
There's just one catch—the closest place to legally get one is over nine hundred miles away in New Mexico, and Veronica doesn't have a car. Desperate, she turns to the only person she believes won't judge her: Bailey Butler, Jefferson High's own little black cloud of anger and snark; the subject of countless urban legends; the terror of the football team—and Veronica's ex-best friend.
The plan is straightforward: a fourteen-hour drive to the clinic, three hours for the appointment, and a fourteen-hour drive home. What could go wrong? Not much, apart from three days of stolen cars, shotguns, crazed ex-boyfriends, kind-hearted truck stop strippers, ferret-napping, and aliens. Plus, the pain and betrayal of a broken friendship that can't be outrun, even when speeding down a highway at ninety miles an hour. Soon, Veronica must risk everything to repair the hurt she's caused. Under the vast starlit skies of the American Southwest, Veronica and Bailey discover the road to adulthood isn't easy—but it's better with a friend by your side.
Poignant, funny, and arresting, this coming-of-age adventure will have readers addicted, and has the power to change hearts and minds and start important conversations.
Suggested Reading by Dave Connis from Katherine Tegen Books

Genre: Fiction/Social Themes Anticipated Release Date: 9/17
Synopsis: 
In this hilarious and thought-provoking contemporary teen standalone that's perfect for fans of 
Moxie
, bookworm Clara Evans finds a way to fight back when her school bans dozens of classic and meaningful books. 
Eleanor and Park
. 
The Perks of Being a Wallflower
. 
Their Eyes Were Watching God
. These are just a few of the books at Lupton Academy that are now considered "prohibited media."
A passionate reader who loves staying up all night to highlight the best lines in her favorite novels, Clara Evans is horrified when she discovers the titles on the principal's hit list are being taken out of circulation at the school library. In fact, the books aren't allowed anywhere on the school's premises, and students caught with the contraband will be sternly punished. 
Many of these stories have changed Clara's life, so she's not going to sit back and watch while her draconian principal, Mr. Walsh, abuses his power. She's going to strike back.
With the help of her friend and student body president, LiQui, Clara starts an underground library—the UnLib—in her locker, doing a shady trade in titles like Speak and The Chocolate War. But when one of the UnLib books she loves most is connected to a tragedy she never saw coming, Clara's forced to face her role in it. Will she be able to make peace with her conflicting feelings, or is fighting for this noble cause too tough for her to bear?
Verify by Joelle Charbonneu from HarperTeen
Genre:Fiction/Dystopian (YA) Anticipated Release Date: 9/24
Synopsis: 
Joelle Charbonneau returns with a breathless new duology that will capture fans of Neal Shusterman's Scythe series and leave readers questioning everything they once believed to be true.
Meri Beckley lives in a world without lies. When she looks at the peaceful Chicago streets, she shares in the pride that everyone in the country feels about the era of unprecedented hope and prosperity over which the government presides.
But when Meri's mother is killed, Meri suddenly has questions that no one else seems to be asking. And when she tries to uncover her mother's state of mind in her last weeks, she finds herself drawn into a secret world full of facts she's never heard and a history she didn't know existed.
Suddenly, Meri is faced with a choice between accepting the "truth" she has been taught or embracing a world the government doesn't want anyone to see—where words have the power to change the course of a nation and where the wrong one could get Meri killed.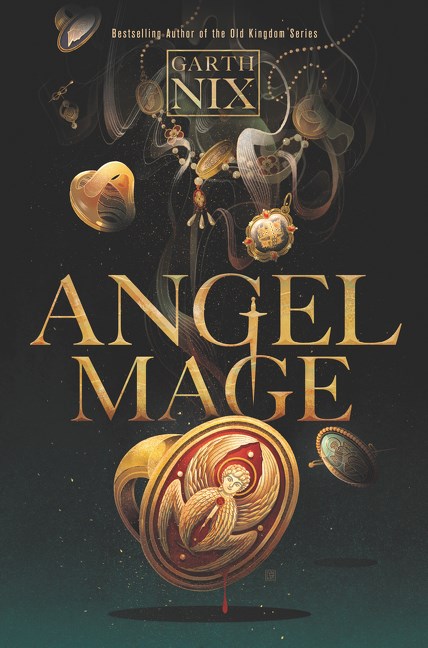 Genre: Epic Fantasy (Young Adult) Anticipated Release: Oct. 1
Synopsis: New York Times bestselling author and fantasy master Garth Nix delivers a masterpiece with Angel Mage, the story of an ageless young woman with terrifying angelic powers, bent on reuniting with her lover—no matter the cost to anyone else.
More than a century has passed since Liliath crept into the empty sarcophagus of Saint Marguerite, fleeing the Fall of Ystara. But she emerges from her magical sleep still beautiful, looking no more than nineteen, and once again renews her single-minded quest to be united with her lover, Palleniel, the archangel of Ystara.
It's a seemingly impossible quest, but Liliath is one of the greatest practitioners of angelic magic to have ever lived, summoning angels and forcing them to do her bidding. Four young people hold her interest: Simeon, a studious doctor-in-training; Henri, a dedicated fortune hunter; Agnez, a glory-seeking musketeer; and Dorotea, icon-maker and scholar of angelic magic.
The four feel a strange kinship from the moment they meet but do not suspect their importance. And none of them know just how Liliath plans to use them, as mere pawns in her plan, no matter the cost to everyone else . . .
Fans of Cassandra Clare, Holly Black, and Leigh Bardugo will fall in love with Angel Mage, a feminist fantasy that takes place in an alternate European world ruled by fearsome magic and deadly passions.
Yeah, yeah… laugh all you want. Clue is my favorite movie and the second I saw it I hit the ceiling and begged for it. I even read the six comic book arc put out in the fall loved it

. So yeah.

Genre: Fiction/Mystery/Detective (YA) Scheduled Release: 10/8
Synopsis: A murderer could be around every corner in this thrilling YA trilogy based on the board game CLUE!
When a storm strikes at Blackbrook Academy, an elite prep school nestled in the woods of Maine, a motley crew of students—including Beth "Peacock" Picach, Orchid McKee, Vaughn Green, Sam "Mustard" Maestor, Finn Plum, and Scarlet Mistry—are left stranded on campus with their headmaster. Hours later, his body is found in the conservatory and it's very clear his death was no accident. With this group of students who are all hiding something, nothing is as it seems, and everyone has a motive for murder.
GraveMaidens by Kelly Coon from Random House Children's Publishing

Genre: Dark/Historical Fantasy Anticipated Release: 10/29
Synopsis: The start of a fierce fantasy duology about three maidens who are chosen for their land's greatest honor…and one girl determined to save her sister from the grave. 

In the walled city-state of Alu, Kammani wants nothing more than to become the accomplished healer her father used to be before her family was cast out of their privileged life in shame. When Alu's ruler falls deathly ill, Kammani's beautiful little sister, Nanaea, is chosen as one of three sacred maidens to join him in the afterlife. It's an honor. A tradition. And Nanaea believes it is her chance to live an even grander life than the one that was stolen from her. But Kammani sees the selection for what it really is—a death sentence.
Desperate to save her sister, Kammani schemes her way into the palace to heal the ruler. There she discovers more danger lurking in the sand-stone corridors than she could have ever imagined and that her own life—and heart—are at stake. But Kammani will stop at nothing to dig up the palace's buried secrets even if it means sacrificing everything…including herself.
Genre: Fiction/Fantasy/Epic (Adult)  Scheduled Release: 11/8
Synopsis: A brand-new, genre-bending series from New York Times bestselling author, Kel Kade.
Not all stories have happy endings.
Everyone loves Mathias. Naturally, when he discovers it's his destiny to save the world, he dives in head first, pulling his best friend Aaslo along for the ride.
However, saving the world isn't as easy, or exciting, as it sounds in the stories. The going gets rough and folks start to believe their best chance for survival is to surrender to the forces of evil, which isn't how the prophecy goes. At all. As the list of allies grows thin, and the friends find themselves staring death in the face they must decide how to become the heroes they were destined to be or, failing that, how to survive.
What is on your shelves- new- sitting there forever or otherwise??! 
Questions about my shelves or the boys – lord knows they love the attention! Ask away!!