Today is a mash-up of Top Ten Tuesday and Monthly Anticipated Reads, which is new to me. So here are my top ten books to check out for March 2019! Check out my list and let me know what you like, don't like, would have taken off, would have added! I'd love to hear it all! I had to narrow it down to ten and wanted to vary it up (although some you will see across all the lists for March, I'm sure) but there was no way I could include all the great releases March has to offer!
March 5th:
Nation of the Beasts by Mariana Palava published by Mage's Lantern/IBPA
Book Synopsis from Publisher:
The abyss watches him. Nightmares hunt him. And now, a battle begins. Terrifying creatures, unseen to all around him, have tormented Elisse since he was a little boy. These "night terrors" and the cruel life as a young Westerner in a refugee camp have left him isolated and alone. The only clue to his past is an old, tattered envelope with a picture of his father who mysteriously abandoned him at a monastery as a baby.
When Elisse flees India and journeys to New Orleans in search of his father and the truth of his troubled existence, he finds not only the answers to his extraordinary life, an ancestral secret with a grave responsibility, but also the one thing he most desires. A family—but of beasts. 

Now, Elisse's awakening gifts attract dark forces rooted in Louisiana magic, and he must do the unthinkable to protect everyone he loves. Will Elisse accept the burdens of his gifts and conquer darkness? Or will that same darkness consume him and destroy the love he so desperately longed for? 

Mariana Palova's debut novel, Nation of the Beasts: The Lord of the Sabbath, is an unforgettable journey of magic, heartache, and the unbreakable bonds that span this world and the other.

March 12th:
Angel of Thieves by Kathi Appelt published by Atheneum Books
Book Synopsis from Publisher:
Multiple perspectives spanning across time are united through themes of freedom, hope, and faith.Multiple perspectives spanning across time are united through themes of freedom, hope, and faith in a most unusual and epic novel. Sixteen-year-old Cade Curtis is an angel thief. After his mother's family rejected him for being born out of wedlock, he and his dad moved to the apartment above a local antique shop. The only payment the owner Mrs. Walker requests: marble angels, stolen from graveyards, for her to sell for thousands of dollars to collectors. But there's one angel that would be the last they'd ever need to steal; an angel, carved by a slave, with one hand open and one hand closed. If only Cade could find it…
Zorra, a young ocelot, watches the bayou rush past her yearningly. The poacher who captured and caged her has long since lost her, and Zorra is getting hungrier and thirstier by the day. Trapped, she only has the sounds of the bayou for comfort—but it tells her help will come soon.
Before Zorra, Achsah, a slave, watched the very same bayou with her two young daughters. After the death of her master, Achsah is free, but she'll be damned if her daughters aren't freed with her. All they need to do is find the church with an angel with one hand open and one hand closed…
In a masterful feat, National Book Award Honoree Kathi Appelt weaves together stories across time, connected by the bayou, an angel, and the universal desire to be free.
Heroine by Mindy McGinnis Published by Katherine Tegen Books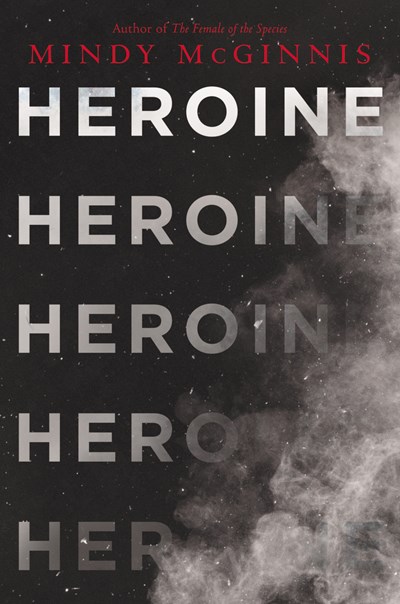 Book Synopsis from Publisher:
A captivating and powerful exploration of the opioid crisis—the deadliest drug epidemic in American history—through the eyes of a college-bound softball star. Edgar Award-winning author Mindy McGinnis delivers a visceral and necessary novel about addiction, family, friendship, and hope.
When a car crash sidelines Mickey just before softball season, she has to find a way to hold on to her spot as the catcher for a team expected to make a historic tournament run. Behind the plate is the only place she's ever felt comfortable, and the painkillers she's been prescribed can help her get there. The pills do more than take away pain; they make her feel good.
With a new circle of friends—fellow injured athletes, others with just time to kill—Mickey finds peaceful acceptance, and people with whom words come easily, even if it is just the pills loosening her tongue. But as the pressure to be Mickey Catalan heightens, her need increases, and it becomes less about pain and more about want, something that could send her spiraling out of control.
March 19th:
To Best the Boys by Mary Weber published by Thomas Nelson
Book Synopsis from Publisher:
The task is simple: Don a disguise. Survive the labyrinth. Best the boys.In a thrilling new fantasy from the bestselling author of the Storm Siren Trilogy, one girl makes a stand against society and enters a world made exclusively for boys.
Every year for the past fifty-four years, the residents of Pinsbury Port have received a mysterious letter inviting all eligible-aged boys to compete for an esteemed scholarship to the all-male Stemwick University. The poorer residents look to see if their names are on the list. The wealthier look to see how likely their sons are to survive. And Rhen Tellur opens it to see if she can derive which substances the ink and parchment are created from, using her father's microscope.
In the province of Caldon, where women train in wifely duties and men pursue collegiate education, sixteen-year-old Rhen Tellur wants nothing more than to become a scientist. As the poor of her seaside town fall prey to a deadly disease, she and her father work desperately to find a cure. But when her mum succumbs to it as well? Rhen decides to take the future into her own hands—through the annual all-male scholarship competition.
With her cousin, Seleni, by her side, the girls don disguises and enter Mr. Holm's labyrinth, to best the boys and claim the scholarship prize. Except not everyone is ready for a girl who doesn't know her place. And not everyone survives the deadly maze.
Welcome to the labyrinth.
Internment by Samira Ahmed published by Little Brown Books for Young Readers
Book Synopsis from Publisher:
Rebellions are built on hope.
Set in a horrifying near-future United States, seventeen-year-old Layla Amin and her parents are forced into an internment camp for Muslim American citizens. With the help of newly made friends also trapped within the internment camp, her boyfriend on the outside, and an unexpected alliance, Layla begins a journey to fight for freedom, leading a revolution against the internment camp's Director and his guards. Heart-racing and emotional, Internment challenges readers to fight complicit silence that exists in our society today.
March 26th:
Sky Without Stars by Jessica Brody, Joanne Rendell Published by Simon Pulse
Book Synopsis from Publisher:
A thief. An officer. A guardian. Three strangers, one shared destiny…
When the Last Days came, the planet of Laterre promised hope. A new life for a wealthy French family and their descendants. But five hundred years later, it's now a place where an extravagant elite class reigns supreme; where the clouds hide the stars and the poor starve in the streets; where a rebel group, long thought dead, is resurfacing. Whispers of revolution have begun—a revolution that hinges on three unlikely heroes…
Chatine is a street-savvy thief who will do anything to escape the brutal Regime, including spy on Marcellus, the grandson of the most powerful man on the planet.
Marcellus is an officer—and the son of a renowned traitor. In training to take command of the military, Marcellus begins to doubt the government he's vowed to serve when his father dies and leaves behind a cryptic message that only one person can read: a girl named Alouette.
Alouette is living in an underground refuge, where she guards and protects the last surviving library on the planet. But a shocking murder will bring Alouette to the surface for the first time in twelve years…and plunge Laterre into chaos.
All three have a role to play in a dangerous game of revolution—and together they will shape the future of a planet. Power, romance, and destiny collide in this sweeping reimagining of Victor Hugo's masterpiece, Les Misérables.
Dig by A.S. King Published by Dutton Books
Book Synopsis from Publisher:
A surreal and searing dive into the tangled secrets of a wealthy white family in suburban Pennsylvania and the terrible cost the family's children pay to maintain the family name.
The Shoveler, the Freak, CanIHelpYou?, Loretta the Flea-Circus Ring Mistress, and First-Class Malcolm. These are the five teenagers lost in the Hemmings family's maze of tangled secrets. Only a generation removed from being Pennsylvania potato farmers, Gottfried and Marla Hemmings managed to trade digging spuds for developing subdivisions and now sit atop a seven-figure bank account–wealth they've declined to pass on to their adult children or their teenage grandchildren. "Because we want them to thrive," Marla always says. What does thriving look like? Like carrying a snow shovel everywhere. Like selling pot at the Arby's drive-thru window. Like a first class ticket to Jamaica between cancer treatments. Like a flea-circus in a double-wide. Like the GPS coordinates to a mound of dirt in a New Jersey forest. As the rot just beneath the surface of the Hemmings' precious suburban respectability begins to spread, the far-flung grandchildren gradually find their ways back to one another, just in time to uncover the terrible cost of maintaining the family name.
With her signature surrealism and insight into teenage experience, YA master A.S. King explores a corrosive culture of polite, affluent white supremacy that rots a family from within and shows how one determined generation has a shot at saving itself.
OK PHEW.. That took way longer than it should have … but that is my list… now tell me yours. What would you add? Replace? Am I crazy? Go ahead I can handle it…