When your week is more unpredictable than St. Louis weather? When it has more highs and lows than St. Louis weather? To the point that Gomez can't bare to look.. can't even begin to cat? Yeah. That's the kind of week I've had. Because Christina said it best… Well when hasn't someone on Grey's said it best?


So other than one call to arms for support through the low I'm going to focus on my six-week old baby. That would be this site… there was no immaculate conception, that baby is Novel Lives and another record week.


That first drop of the roller-coaster is always the worst. You know it is coming but the slow climb up the hill. Your stomach creeps to your throat. Your pulse slowly begins to race. Your heart simultaneously s l o w s down and rapidly speeds up all at once in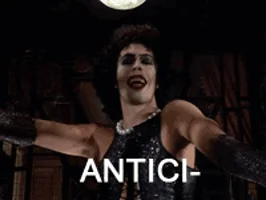 And then that first drop. Yea. I had few of those. Shattered heart. They suck. Fun times I tell you. Let's move on now, though. Shall we?
Ok now to the fun! There's been a lot of highs on that roller-coaster. More records broken!
As of 2:00 AM Central time on Sept 1st we are just 1 away from fifty followers (not including email- with email we are close to 60).

Including Twitter- We are over 2000 followers (but I still don't think that's really a fair stat to use but it is there- as  I stated last week).

August 30th and 31st there was a tie for the most views in one day: 50 (barely beating the 22nd out with 42– showing continuous growth!!!)

I know I said something about 200 views on the 22nd but I figured out where that mistake came from and sorted it out- I only want to count unique views/visitors.

August 30th had the most visitors by a landslide with 42 (and 50 views as mentioned above).
Thank you for again making this another record breaking week with continued growth. Here's to a third record breaking week in a row!
The funny part? As John Lennon once said… Life is what happens when you are making other plans. When I did lasts week's wrap-up? And I gave a list of what to expect for this week?  The publishing world had other plans which made for a novel life, indeed.
I wrote what turned out to be the blog I'm most proud of to date: Buried Beneath the Baobab Tree (linked below). It is the most serious, relevant and powerful work I have reviewed. I merely aimed to do it justice. Not since launching the site had I been so nervous to post a review online.
If I could just not do harm, bring attention to what had happened, was still happening in Nigeria through the masterful work done by Ms. Nwaubani and Ms. Mazza than I would breathe. What actually happened? The reception was beyond my wildest dreams. I asked for honest feedback to grow and it was specific, it was grateful and it was honest. Those that didn't know anything about the situation now wanted to know more, read the book and do more research. I couldn't ask for more than that from any review. Especially not one of this magnitude. I will be reposting it on September 4th, because everyone needs to read it. To stop the discussion and continue the action for towards women everywhere having the right to dignity, humanity and the right to say no not just physically but the right to say no to beliefs they don't agree with, without fear of retribution. Here is what
Here is what Novel Lives DID look like this week (good thing I put that disclaimer in there):
What I'm reading, What I've acquired and What's coming 'atcha:


#amreading #amwriting
Here is what definitely hasn't changed. If anything it has gotten even better, stronger. All that fall yummy bookishness just got extra yummy!!!! When I said September had "some barn burners" September gave me the side-eye and said… hold my printing press. So. I give you a whole new updated future cast. Because. September.
First off. Echo Room and The Good Demon are till coming just closer to their publishing time because at the end of last week three books that are being published September 4th came my way in three different ways. One, is already done (Buried Beneath the Baobab Tree). The two that are coming (and I'm not putting in a PSA being it is September 1st of Labor Day weekend and I'm praying for these two to not change).
This coming week in reviews
I'm only giving titles, authors, release date, publisher, and intended audience- no spoilers or even genres)!!!! Not that you can't google- but that's up to you! Assume all are ARCs unless otherwise stated
PSA: Always subject to last minute changes due to the whimsey of …well life… and not necessarily in this order except like I said- A Room Away From the Wolves and The 48 have to be before or on the 4th because September and its side-eyeing ways but we will get to you September. 
Sunday, September 2nd: 
Gomez isn't the only one who reads!!!
A Room Away From the Wolves by Nova Ren Suma

Algonquin Young Readers
Released Tuesday, September 4th
Young Adult
As I posted on twitter:

Monday, September 3rd:
Echo Room by Parker Peevyhouse

Penguin Random House
Released Tuesday, September 11th
Young Adult
Tuesday, September 4th
New Features- It was fun adding some in last week and keeping consistent with the wrap-up this week! I hope to keep that up in the coming week.
I did find a new kind of book tag where everyone gets to learn  more about each other and not just what they read but how and why they read. Looks like fun. Might throw that in there this week 🙂
OK September. It was cool when I could include you with October which already head me in a book grip vice. I guess between that, hockey season and Oktoberfest it was all too much for you, eh? Fine. Buuuut.

Coming to Novel Lives in 

SEPTEMBER!!!!

 
Listed by release date, not by review date
The 48 by Donna Hosie, September 4th
A Room Away From the Wolves by Nova Ren Suma, September 4th
Buried Beneath the Baobab Tree by Adaobi Tricia Nwaubani and Viviana Mazza, September 4th -Review Published
The Echo Room by Parker Peevyhouse, September 11th
The Good Demon by Jimmy Cojoleas, September 18th
For a Muse of Fire by Heidi Heilig, September 25th
In all fairness to September I offered a  cat and a kidney for this one last week– the description mentioned Ms. Bardugo.

And so I say to you once more: 
But let me say this to you September most of that gets done this week and then one book a week is nothing for this book slaying pro. Nothing. Except October still has you whipped. Sorry but it is true.
Especially
Red October 2nd. But that's ok because I'm planned for both of you with a color-coded white board. Because that's what ADD minds do. 
I am actually really excited about some additions -yes additions- to October and especially November (which was looking a little thin). Especially since a certain author started following me. One I've talked about quite about. About how he has the ability to land you right between empathy and disgust, grabbing at your jugular as you throw a certain book across the room swearing it off for good. Just to sneak slowly back up on it because you can't. Stop. Reading it. Yeah.  This Book:
                                                        The Girl With All the Gifts
followed me on Twitter (which almost frightened me except it turns out M. R. Carey is a really nice guy) and offered me an ARC of his new book, Someone Like Me that comes out November 6th. So expect that review in October as well. Also, don't forget that in early October (which means reviews will be in September) there are reviews of the new Nic Stone, Neal Shusterman, Adam Silvera and many more! We'll get more into October next week!!
And don't forget we have Slayers, secrets books that make me break int John Cougar Mellencamp (or is it John Cougar now)? The Kennedy's are coming to bring some class around here and How does one go about fracturing a fairy tale? We will have to see! Buckle in! it is going to be a great ride! I'm so excited everyone who has and will be joining me for it!!! Have a great week and don't forget to tell me what you think of Novel Lives so far. Remember I'm still new at this so suggestions, feedback, comments… all of it? BRING IT ON!

AS ALWAYS…. THANK YOU EVERYONE! And I AM NOT <throwing away my shot.. wait where did that come from?> FORGETTING THE BLOG JUMP<–that's what I meant! I swore I wouldn't last week and I meant it!!! I picked two that are helping me think about a next step in my blogging and one that I came across just this morning that I hope everyone will rally behind!
Anyssa

I chose Anyssa for a very serious reason. Everyone go to her blog right now and tell her she did NOT fail. Because. She. Didn't. Listen to what John Lennon said. Repeat it until you believe it.

Meltotheany

I chose her monthly wrap-up because it really focuses on the content of what she read. I haven't done a monthly yet because August was my first full month and 4 days of it was spent moving my blog from sitebuilder to wordpress. I would think this would have to replace my weekly round-up the last week of each month. However, if I was going to to do a monthly round-up I think I like her attack on it better than just making it the same format as the weeklies, just encompassing of the month.

Dora (swift coffee– very cool)

Another different idea on a wrap-up blog. Dora decided to do it by season. This one was her favorites for summer. I like this idea… a lot actually and I think I would like to even expand it to maybe hits and misses ARCS/NonArcs  etc… but I like maybe going by seasons. I always felt certain CDs had a season to them. Travis' The Man Who felt winter, so did U2s Unforgettable fire where as Achtung Baby was Summer and Travis' last CD (which yes I loved) was also summer. I think books can definitely have that kind of vibe, too. Very cool idea!